Toyota Predicts Further Growth, AstraZeneca Goes Shopping, and 3 More Hot Stocks
Toyota Motor Corp. (NYSE:TM): On the heels of posting its largest annual profit in five years, Toyota is forecasting that the growth trends will continue, and profits will spike to the highest levels seen in six years. Subsequently, the company is planning to boost the compensation for its board, $10.8 million overall, a 28 percent bump over the year previous.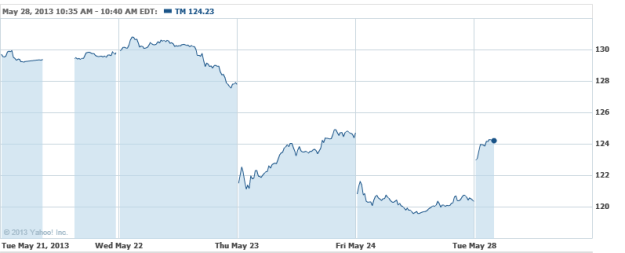 AstraZeneca (NYSE:AZN): AstraZeneca has come up with $443 million to shell out for Omthera Pharmaceuticals (OMTH), with an upfront payment of $323 million (worth $12.70 a share), while a secondary contingent payment of $120 million is worth $4.70. Shares of AstraZeneca are up over 2 percent, but can't hold a candle to Omthera's 95 percent gains.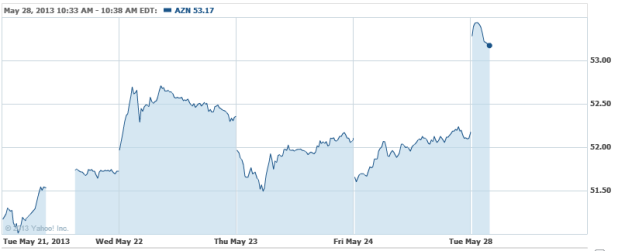 Chevron Corp. (NYSE:CVX): While still embroiled in legal battles in its Pacific operations, Chevron has made some progress in South America, where the company has agreed to lend Petroleos de Venezuela $2 billion to increase production at the companies' Petroboscan oil joint venture to 127,000 barrels a day, up from the current 107,000 barrels per day. "The loan has a very low rate because it's a corporate loan from Chevron to its joint venture and is tied to increased production," said Oil Minister Rafael Ramirez. Shareholders will be pleased by that detail.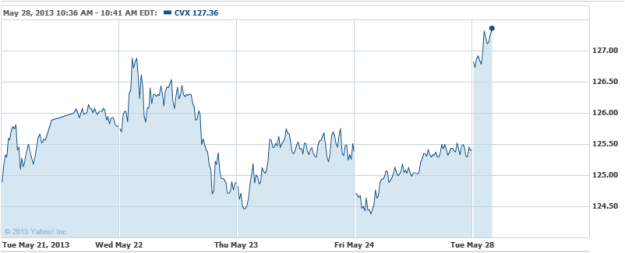 The Royal Bank of Scotland Group plc (NYSE:RBS): Bloomberg has calculated that by the end of the year, the United Kingdom's banks will have shed 189,000 jobs, spearheaded by RBS and HSBC (NYSE:HBC). The trimming will bring employment figures to nine-year lows, and Bloomberg warns that the cuts may continue in the years to come.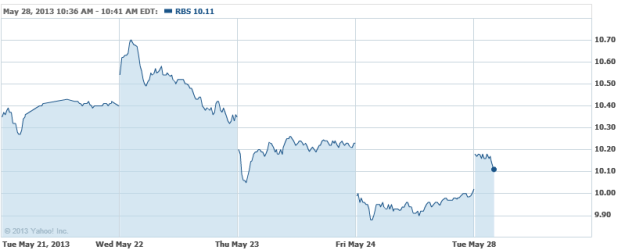 Don't Miss: Ford's F-150 Risks Stalling — Literally.