Toyota Raises 2013 Revenue Estimate and 3 Stocks Enjoying 52-Week Highs
Teleflex Incorporated (NYSE:TFX): Closing price $ 76.32
Teleflex has won a new three-year agreement with Novation for its line of Weck Vista Access products effective April 1st through March 31, 2016. The Weck Vista Bladeless Laparoscopic Access Ports contain a broad range of sizes and include standard and optical ports offering both smooth and ridged cannulas, balloon and cone open access ports, reusable obturators for cannula only options, and insufflation needles. By supplying a complete line of access products, Teleflex gives surgeons who perform minimally invasive procedures access to a wid array of tools designed to help increase visualization and stability during procedures. Shares closed up 1.37 percent on the day at $76.32, having been traded in a 52-week range of $57.26 to $75.92.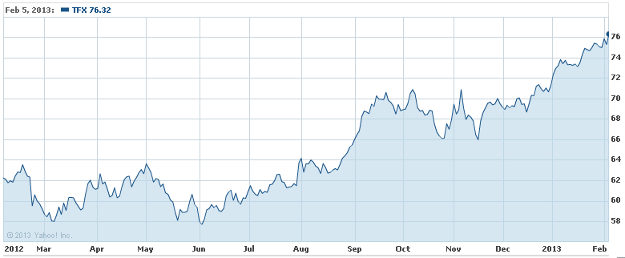 Toyota Motor Corporation (NYSE:TM): Closing price $98.86
Toyota hikes its fiscal year 2013 revenue estimate to ¥21.8 trilllion from 21.3 trillion. The company revised its consolidated vehicles sales forecast for fiscal year 2013 up from 8.75 million units to 8.85 million, marking an increase of 100,000 units from the prior prediction in November because of the increased overseas vehicle sales, mostly in North America. Shares closed up 1.05 percent on the day at $98.86, and have been traded in a 52-week range of $72.04 to $98.62.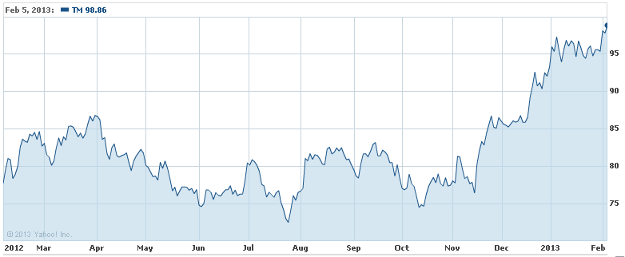 Trimble Navigation (NASDAQ:TRMB): Closing price $63.50
Trimble has launched its Trimble TrimFleet Communicator. Collaborating with Twisted Pair Solutions, TrimFleet Communicator joins Twisted Pair's Wave software with Trimble's fleet management solution, allowing integrated push-to-talk voice communication that is specifically created for the construction materials industry to enhance system performance and collaboration. Shares closed up 1.67 percent on the day at $63.50, having been traded in a 52-week range of $40.02 to $64.04.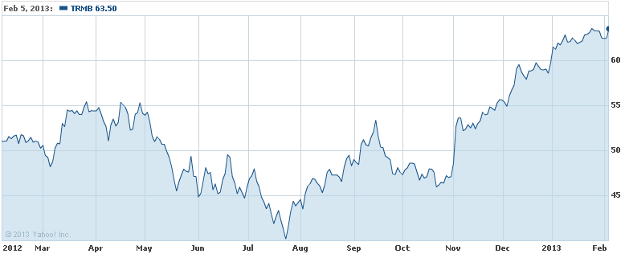 Virgin Media (NASDAQ:VMED): Closing price $45.61
After the company confirmed in a press release that it is in talks with Liberty Global (NASDAQ:LBTYA) in regards to a possible transaction, Financial Times stated that a number of persons familiar with the matter said that Liberty's offer might be announced in the coming days, although they added that the transaction has not been finalized and might yet fall apart. Should Liberty buy the United Kingdom's second-largest pay television operator, it would be in direct competition with British Sky Broadcasting, which is run by News Corp. (NASDAQ:NWSA). Shares closed up 17.89 percent on the day at  $45.61, and have been traded in a 52-week range of $21.25 to $40.25.

Don't Miss: Home Prices Fuel Real Estate Euphoria.