Toyota Sales Pop and 3 Auto Stocks Making Headlines Now
Ford Motor Co. (NYSE:F): Current Price $13.56
The largest automakers are General Motors (NYSE:GM), Ford, and Fiat-controlled (FIATY) Chrysler and all posted domestic sales gains during December, as the U.S. sales of Asian brand saw even faster growth than the biggest domestic manufacturers, according to Financial Times. December's Seasonally-Adjusted Annual Rate of sales, or SAAR, was the year's highest and the highest of any month since prior to the recession started at 15.5 million light vehicles, which causes optimism that 2013 has the ability to continue the industry's momentum, the report adds.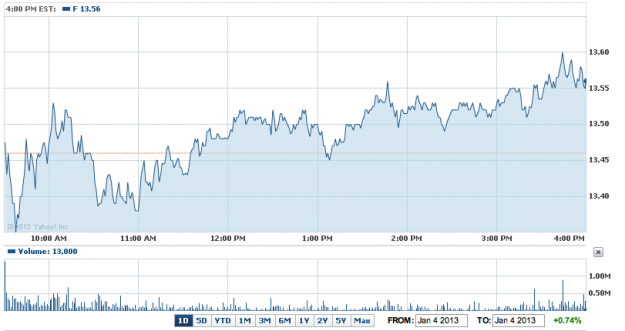 General Motors Company (NYSE:GM): Current Price $29.85
A U.S. bankruptcy judge will soon be able to rule on whether or not the 2009 government-led restructuring of General Motors Co. improperly favored hedge funds. This ruling could possibly cost the automaker almost $1 billion. Judge Robert Gerber has to decide whether or not a "lock-up agreement" in the restructuring sent $367 million to a group of hedge fund noteholders at the expense of other creditors.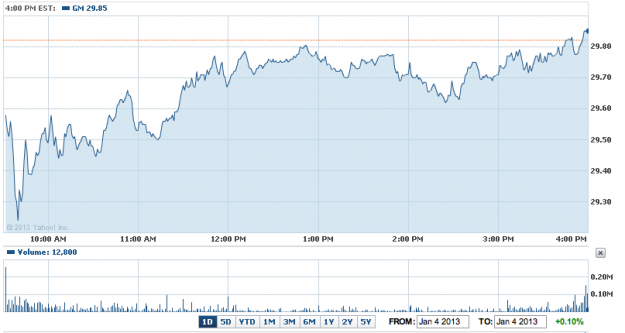 Catalysts are critical to discovering winning stocks. Check out our newest CHEAT SHEET stock picks now.
Toyota Motor Corporation (NYSE:TM): Current Price $97.33
Last month, BMW sales saw a 39 percent boost in the U.S. to beat Daimler's (DDAIF) Mercedes-Benz in luxury-auto deliveries for the year and U.S. light-vehicle sales saw their highest level since 2007. Toyota's (NYSE:TM) Lexus came in third, according to Bloomberg.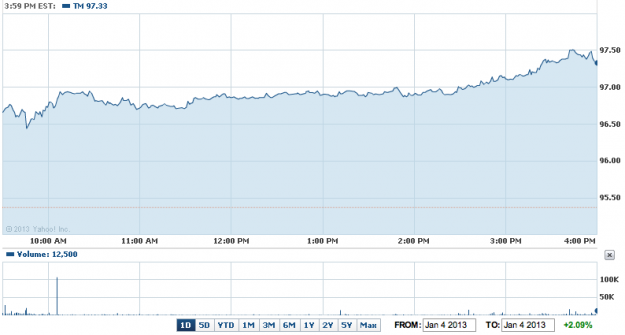 Honda Motor Co., Ltd. (NYSE:HMC): Current Price $37.78
The company ended 2012 with a great December and big sales resulted from its key vehicles. On Thursday, the automaker, whose North American manufacturing is based in Marysville, OH, reported that it sold 132,774 cars and light trucks during December, which was a 26 percent increase from the 105,230 Honda and Acura vehicles sold the previous year.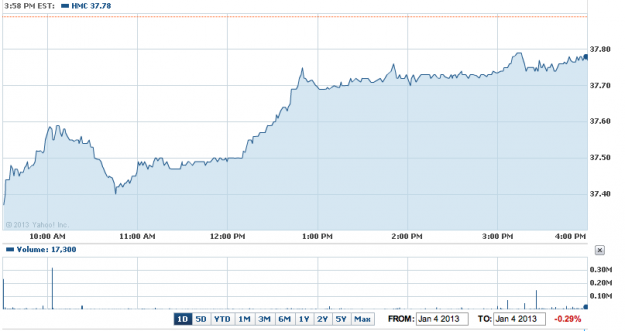 Investing Insights: Will General Motors Continue to Impress?