Toyota Sees Lexus Expansion, Microsoft's CEO Situation, and 3 More Hot Stocks
Toyota Motor Corp. (NYSE:TM): Toyota says that it's expecting its Lexus luxury division to hit a global sales record this year to "finish on the north side of 520,000," just pushing past Lexus's all-time high of 518,300 units in 2007. With the addition of a compact crossover and the RC coupe, Lexus only expects its volume to grow further as U.S. auto demand makes a further recovery; Lexus outpaced the broader market at 12 percent, to the industry's 8 percent, through October.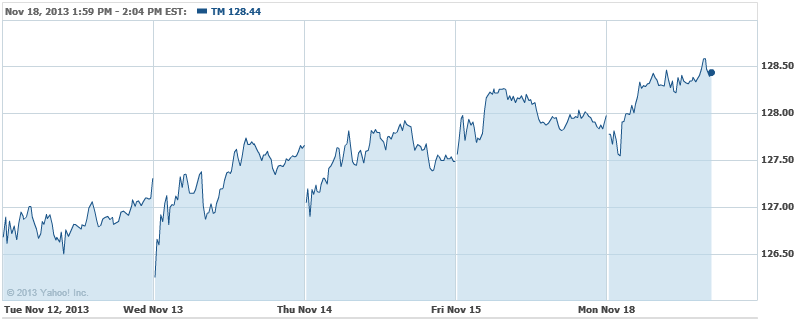 Microsoft Corp. (NASDAQ:MSFT): Kash Rangan of Bank of America has brought the firm's rating on Microsoft from Neutral to Underperform with a price target of $36, as the analyst thinks that there is 10 percent upside if Ford (NYSE:F) CEO Alan Mulally gets the position and 10 percent downside if one of the other reported candidates does; Rangan believes that asset divestitures will turn into "distant realities" if a candidate other than Mulally is named as Steve Ballmer's successor.

General Electric Co. (NYSE:GE): After Boeing grabbed bookings and commitments worth $95 billion at list prices for 259 jets from four customers in Europe and the Middle East for its 777X jet, General Electric is slated to receive $26 billion as a result for producing the engines for the aircraft. Emirates Airlines will acquire 300 GE9X units, while an order from Etihad equates to $3 billion in additional orders for General Electric engines, including the GE9X, the GEnx-1B, and the GE90-115B.

Nvidia Corp. (NASDAQ:NVDA): Nvidia has pulled the wraps off its Tesla K40, a server and HPC GPU that it claims is 40 percent more powerful than its predecessor, the Tesla K20X; it is the first chip in its segment that is made with big data and analytics, and has large-scale scientific uses in mind. The Tesla K40 will boast 12GB of memory and 2,880 GPU cores, and feature Nvidia's GPU Boost technology.

Goldman Sachs Group (NYSE:GS): Goldman Sachs is reportedly accelerating discussions of a sale of its metals warehousing business after the bank announced that it had plenty of interest in its Metro International Trade Services unit from private equity, commodity trading houses, and Chinese conglomerates. Industry insiders believe that Goldman may only be able to reclaim about half of the $540 million that it spend on the unit in 2010 due to new federal regulations.
Don't Miss: 8 Small Luxury Cars Selling Big Across America.