Toyota Tosses Ford's Claim and 4 Other Hot Stocks
Toyota Motor Corp (NYSE:TM) has challenged Ford's (NYSE:F) claim that the Ford Focus, which sold 1.02 million units in 2012 according to data from automotive research firm Polk, was the top-selling car globally during 2012. Toyota said it sold $1.16 million Corollas in 2012, making it "the world's most popular car." Toyota spokesman Ryo Sakai clarified that the number included the Corolla Sedan, which is over 90 percent of the total volume, and the Corolla Altis, Corolla Axio, Corolla Wagon, Corolla Fielder and Corolla Rumion."
Herbalife (NYSE:HLF) issues a response to media enquiries clarifying that the company was 'currently' in compliance NYSE listing requirements, and that it was unlikely that the Exchange would move to delist it. The company also confirmed that the withdrawal of the audit opinions by KPMG, as well as the latter's resignation as the company's auditor, would not put Herbalife in the status of default on its existing credit facilities. Yesterday it was revealed that a KPMG partner provided inside information to an anonymous person who then traded stocks in several companies based on that knowledge. The revelation was followed by KPMG's resignation as auditor of Herbalife and footwear maker Skechers USA Inc, the other company that became a victim of the leaks. The senior partner who was 'separated' from KPMG for the leaks is said to be 50-year old Californian, Scott London. According to a person aware of the matter, the FBI's Los Angeles office has now started investigating the scandal.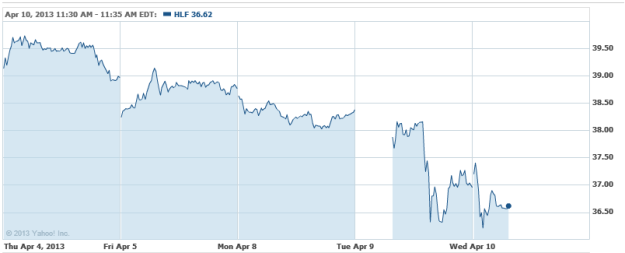 Chinese solar panel manufacturer SunTech Power Holdings Co Ltd (NYSE:STP), whose largest subsidiary, Wuxi Suntech, defaulted and turned bankrupt, is now attempting to sell off some assets as well as rope in a strategic investor who could repay some of the company's debt and help rejuvenate it. Wuxi is currently undergoing a government led restructuring under the supervision of a court appointed committee. Assets that could be on the block include Suntech's stake in GSF Sicar, a Luxembourg-based investment fund investing in developing and operating solar projects with a focus on Italy.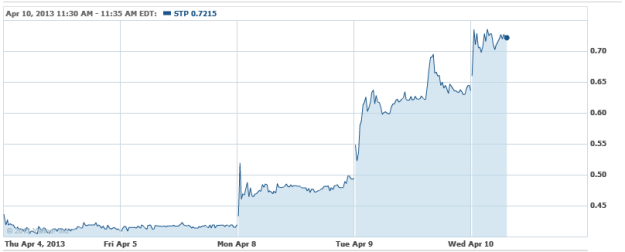 Pharmaceutical firm Merck (NYSE:MRK) announced today that the US FDA had accepted for review the company's New Drug Application for a tablet formulation of its antifungal agent, NOXAFIL (posaconazole). The company markets NOXAFIL Oral Suspension for prophylaxis of invasive Aspergillus and Candida infections. "Invasive fungal infections are a significant cause of illness and death among severely immunocompromised patients," said Robin Isaacs, M.D., vice president, infectious disease clinical research, Merck Research Laboratories. "This filing for a tablet formulation of NOXAFIL is an example of Merck's ongoing commitment to developing new therapy options for patients in the hospital setting."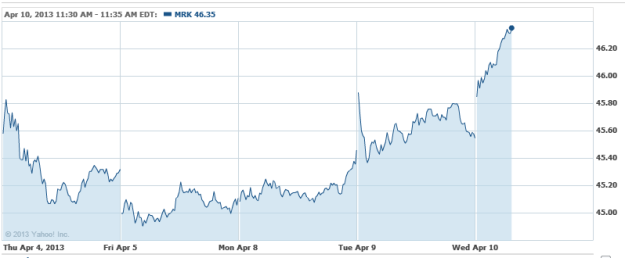 Don't Miss: 3 Reasons Why Tesla Motors Isn't a Loser.