Toyota's Cautious Approach to China, Dell Urges Shareholders In Favor of Dell-Silverlake, and 3 More Hot Stocks
Toyota Motor Corp. (NYSE:TM): Toyota will be taking the Chinese market slowly and cautious in regards to its Lexus luxury line, according to a company executive. Even though taking its time could cost the company market share and money on import tariffs, anti-Japanese sentiment plays a more significant factor in the decision.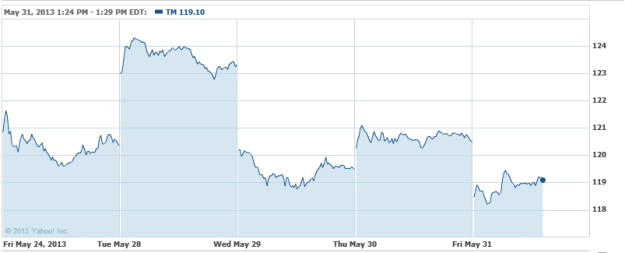 Dell Inc. (NASDAQ:DELL): Following the revised bid from Carl Icahn, Dell has issued a letter to its shareholders, recommending that they vote in favor of the $13.65 per share bid from founder Michael Dell and Silver Lake Capital. The price represents a premium of approximately 37 percent over the average closing share price during the 90 calendar days ending January 11, 2013, the day prior to when rumors regarding the transaction entered the marketplace. A the decision will be put to vote on July 18th.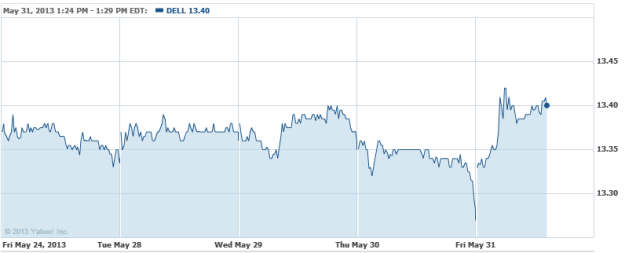 Dish Network (NASDAQ:DISH): The board of Clearwire (NASDAQ:CLWR) has announced that it will adjourn a regularly scheduled stockholder meeting set for today without doing any business, and postpone the meeting until June 13th in light of an unsolicited offer from Dish Network worth $4.40 per share, a $1 premium over Sprint's (NYSE:S) sweetened offer. The additional time will be used for shareholders to the in the new bid, and see if a better offer makes its way to their desks.

Time Warner, Inc. (NYSE:TWX): CEO Jeffrey Bewkes has sold a stake worth $12.2 million this week, effectively reducing his direct holdings by 81 percent according to SEC filings. The insider sale comes with Time Warner shares near multi-year highs.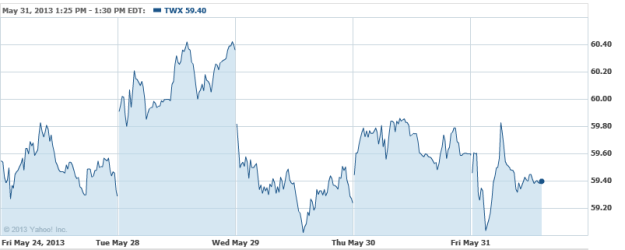 Dendreon Corp. (NASDAQ:DNDN): After a rather dismal first quarter report, Dendreon's shares are finding some much needed reprieve. The company says that six abstracts highlighting data from Phase II trials with the drug Provenge will be presented at the the 49th Annual Meeting of the American Society of Clinical Oncology, resulting in a lift in shares of almost 5 percent.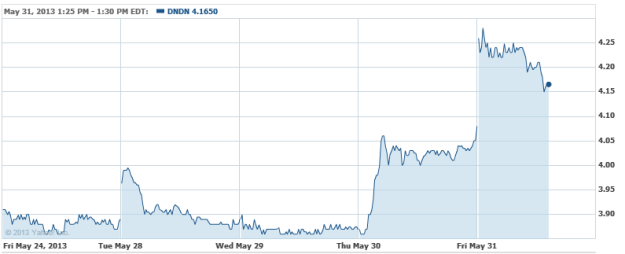 Don't Miss: Why Is Toyota So Optimistic About the Lexus?