Toyota's Healthy Market Share, Sprint Surges on Upgrade, and 3 More Hot Stocks
Toyota Motor Corp. (NYSE:TM): Despite five not-so-impressive years that saw a string of recalls, a devastating tsunami in its home country, and a financial crisis, top Toyota executives maintain that the automaker's U.S. market share is where it should be. Currently, Toyota's market share sits at about 14.4 percent, down from the 16.8 percent that it held in 2008. However, it weathered a dip to 12.8 percent immediately after the tsunami, which forced the automaker to cut production.

Sprint Corp. (NYSE:S): An upgrade to Outperform from Neutral has helped push shares of Sprint over 3 percent, as analyst Kevin Smithen sees an attractive entry point for the stock, which could lead to 20 percent to 30 percent gains next year as Sprint's postpaid subscriber growth improves. "At the end of the day, we believe that spectrum quantity wins and in Son-San's vision and track record of execution," Smithen writes.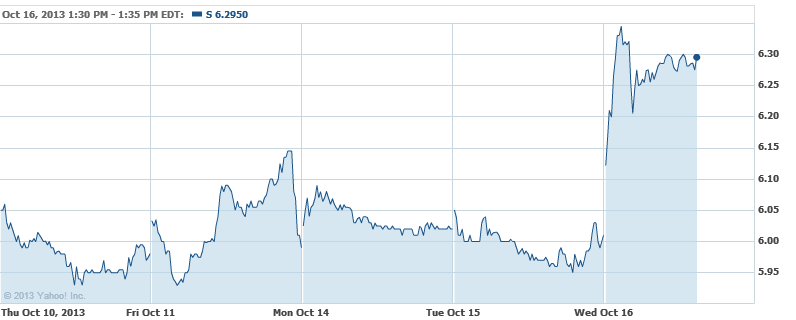 PetroChina Co. (NYSE:PTR): The former head of PetroChina's Indonesian operations is apparently under investigation by the Chinese government, following up corruption probes into other senior executives. Sources indicate that PetroChina relieved the executive from his post as general manager of its Indonesian unit several weeks ago, in the middle of an unspecified official probe.

Green Mountain Coffee Roasters (NASDAQ:GMCR): Green Mountain Coffee shares have recovered from an early dip after it was revealed that David Einhorn's Greenlight Capital had expanded its short position in the company. Einhorn is still nervous bout CEO Brian Kelley's unwillingness to clarify some questions regarding K-Cup data and points to discrepancies between Green Mountain's K-Cup sales data and that from tracking firm IRI.

JPMorgan Chase & Co. (NYSE:JPM): JPMorgan will be writing a check for $100 million to the Commodity Futures Trading Commission to settle charges stemming from its London Whale trading incident in 2012. The CFTC is expected to fine JPMorgan for its use of so-called manipulative devices, taking advantage of new regulatory powers granted to the commission by the 2010 Dodd-Frank financial overhaul, The Wall Street Journal reports.

Don't Miss: Is This the New Bank of America Moynihan Promised?