Toyota's Surging Profits, Manchester United's Ferguson Retirement Rumors, and 3 More Hot Stocks
Toyota Motor Corp. (NYSE:TM): Though its midsize sedans are losing steam against American competition, Toyota had itself a great quarter, with net profits of 313.9 billion yen, beating by 50.1 billion. Revenue clocked in at 5.837 trillion yen, while operating profit remained a healthy 502.3 billion. The weakening yen, Prime Minister Shinzo Abe's successful efforts to increase exports, allowed Toyota to rack up an operating profit of 1.32 trillion yen, the first time that the figure has passed the 1 trillion mark since the recession. Note: 1 yen = $0.01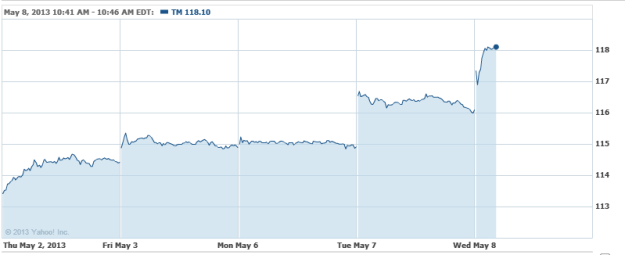 Manchester United Ltd. (NYSE:MANU): Reports are stating that Manchester club manager Sir Alex Ferguson is exploring the idea of retiring, possibly as early as week's end. No confirmation or denial of his stepping down was made by representatives of the company, as the rumors were spurred on Tuesday afternoon, during a player-versus-coach golf match. Ferguson has been with the Manchester club for 26 years.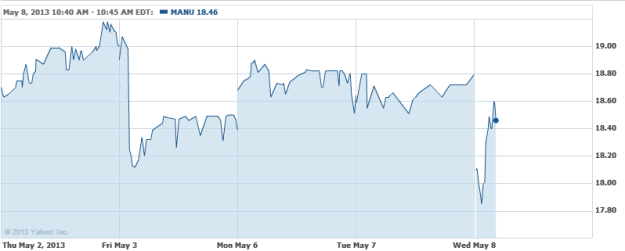 Rio Tinto (NYSE:RIO): The mining giant has reported that it believes its Chinese iron ore sales will increase, as China's demand for steel will swell and will continue to expand until 2030 despite fears of an economic slowdown. Accordingly, Rio Tinto's president of iron ore Asia Alan Smith has predicted that production will reach 147 million tons this year, piercing through 2012′s record haul.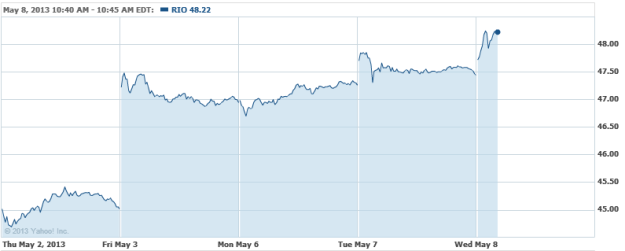 InterContinental Hotels Group (NYSE:IHG): If you're interested in buying a hotel in New York City, Intercontinental Hotels can help, as it's Barclay Hotel is up for sale, and it's looking more intensively for a new buyer. However, your options would be limited as it's the only hotel up for grabs — but be prepared to put some work in. "Any new owner would potentially have to spend upwards of $100 million refurbishing the hotel, so necessarily it takes longer to develop those plans," said Chief Financial Officer Tom Singer. "We have had some conversations with parties earlier this year. With effect from a couple of weeks ago, we have now gone out to re-market the property to a wider group."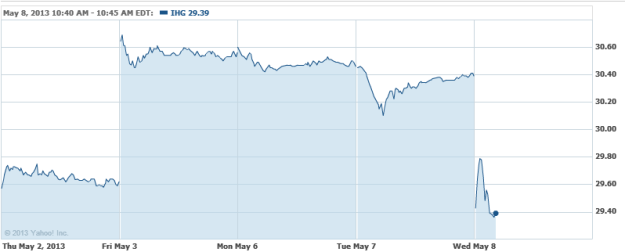 AOL (NYSE:AOL): Following its spin-off from Time Warner (NYSE:TWX), AOL has worked feverishly to reinvent itself, and move in other media-related directions. It seems the plan has been working. Earnings of $0.32 missed by $0.03, but revenues of $538.3 million narrowly beat estimates by $1.15 million. Although ad sales grew 9 percent, it was a decline from the fourth quarter figures of 13 percent. Figures across the board were mixed; most numbers fell short of fourth quarter figures, but were overall up year-over-year.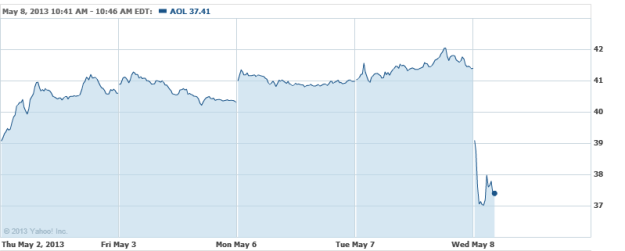 Don't Miss: Corvette Stingray: Affordable For the Average Sports Car Enthusiast?