TPG-Axon Capital Reduces International Paper Stake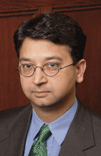 Dinakar Singh's TPG-Axon Capital Management recently filed an amended 13G with the SEC regarding shares of International Paper (NYSE:IP). Due to portfolio activity on December 31st, TPG-Axon disclosed a 1.4% ownership stake in IP with 6,300,000 shares.
This marks a decrease in their position as Singh's firm owned 14,270,005 shares back in the third quarter. Over the course of three months, they've decreased their position size by almost 56%.
The hedge fund firm also filed a separate 13G on shares of Zhongpin (NASDAQ:HOGS). Based on the filing, it appears as though their position remains unchanged with 3,000,000 shares. This total represents an 8.5% ownership stake in HOGS. We covered when TPG-Axon was buying HOGS back in September. Per Google Finance (NASDAQ:GOOG), Zhongpin is "principally engaged in the meat and food processing and distribution business in the People's Republic of China (the PRC)."
Singh founded TPG-Axon in 2004 in collaboration with private equity firm Texas Pacific Group. Prior to launching his hedge fund, Singh was co-head of Goldman Sachs' (NYSE:GS) principal strategies group.
International Paper (NYSE:IP) is "a global paper and packaging company. It is complemented by the North American merchant distribution system, with primary markets and manufacturing operations in North America, Europe, Latin America, Russia, Asia and North Africa. The Company operates in six business segments: Industrial Packaging, Printing Papers, Consumer Packaging, Distribution, Forest Products, and Specialty Businesses and Other."