Tranzyme Partners with Bristol-Myers, Lilly Fights Patent Cliff: Healthcare Business Recap
Tranzyme Pharma (NASDAQ:TZYM)  Closing price $0.52
On Friday, Tranzyme reported the successful finalization of its chemistry-based drug discovery partnership with Bristol-Myers Squibb Company (NYSE:BMY). Resulting from their research efforts, the former has transferred compounds to the latter for further development across multiple drug targets. Through the accord, Tranzyme keeps the option to further pursue chosen  collaboration targets for internal development.
Eli Lilly and Company (NYSE:LLY)  Closing price $51.56
Yearly sales of Lilly's Alimta, a desperately needed new lung cancer drug, are predicted by Wall Street to rise to $3.5 billion by 2016, but then its basic patent will lapse, unless the protection from a separate so-called method-of-use patent on the manner in which the drug is administered can help it retain its marketing exclusivity until 2022. Should that obscure patent on Lilly Alimta survive a court challenge this year, the firm would be able to wring in excess of five additional years of peak sales out of the rapidly-growing product that it would otherwise lose to the cheaper generics.
Are these stocks a buy or sell? Let us help you decide.  Check out our Wall St. Cheat Sheet Stock Picker Newsletter now>>
EntreMed (NASDAQ:ENMD)  Closing price $1.52
The clinical-stage pharmaceutical announced Friday the beginning of a second site for its Phase 2 study of ENMD-2076 in triple-negative breast cancer.  Investigator for the study will be Kathy Miller, MD, Associate Professor at the Melvin and Bren Simon Cancer Center at Indiana University. The University joins the University of Colorado Cancer Center, where the Phase 2 study is ongoing.  EntreMed is sponsoring the study, which is supported by a grant from the National Cancer Institute.
Johnson & Johnson (NYSE:JNJ)  Closing price $71.55
The company's shares were upgraded Friday at Deutsche Bank from Hold to Buy, and its price target was raised from $75 to $82. The analyst remarked that "For the past several years, JNJ has weathered through patent expirations, a general slowdown in utilization trends, and challenges with its OTC businesses. As we look ahead to 2013, we believe JNJ will see improving trends. We expect recent and new drugs to continue to drive pharma sales. A slight improvement in utilization and new products should benefit MD&D. For Consumer, J&J should continue to work through the McNeil Consent Decree and return products to market. Given these improving trends and the benefits of diversification, we believe JNJ deserves a premium to its peers."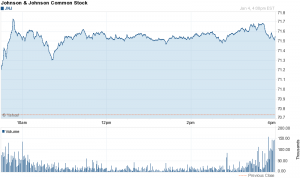 Investing Insights: Is Avon the Next Herbalife?