Travelers Will Continue Raising Premiums to Offset Interest Rates and 2 Other Dow Movers to Watch
Travelers Cos. Inc. (NYSE:TRV): Current price $86.47
Travelers says that because of low interest rates, it intends to keep hiking its premiums. The insurer reported a record operating profit that easily topped Wall Street estimates, but said it must keep premiums going up, not only due to interest rates, but also from potential losses from natural disasters. Travelers took the lead in raising prices as the industry saw low rates cutting into interest incomes. Chief Executive Jay Fishman commented in a statement that, "We intend to stay the course on this strategy as our expectations of more volatile weather patterns and continued low interest rates have not changed."

Microsoft Corp. (NASDAQ:MSFT): Current price $34.71
As expected, Microsoft has introduced the Surface 2 and Surface Pro 2 in the United States and 20 other countries at respective initialn prices of $449 and $899. Some accessories are also available besides the slates, including the backlit Touch Cover 2 and Type Cover 2 keyboards at $120 and $130, a Wireless Adapter for Typing Covers at $60, and the Arc Touch Mouse Surface Edition at $70. It is thought that the Docking Station and Power Cover will not ship until early next year, when they will go for $200 each.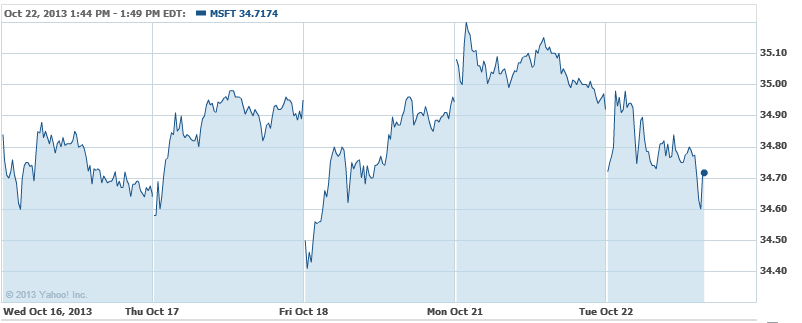 E.I. DuPont de Nemours & Co. (NYSE:DD): Current price $59.84
It was necessary that on Tuesday, DuPont had to warn investors that the United States dollar, appreciating faster than it expected, could impact the company as much as 50 percent higher than was projected in the summer. The stronger dollar could reduce full-year profits by 18 cents a share, marking a notable jump from the 12 to 14 cents it anticipated at the end of the second quarter. The chemical company's chief financial officer Nick Fanandakis, observed that, "The dollar continued to strengthen against most currencies, particularly the Brazilian real, Japanese yen and the Indian rupee, partially offset by a weaker dollar versus the euro."

Don't Miss: Top 8 Online Giants Attracting Massive Web Traffic.