Treasury to Sell 30 Million GM Shares and 2 More Heavily Traded Stocks to Follow
General Motors Company (NYSE:GM): Current price $34.01
The United States government will sell an additional 30 million shares of GM stock in a public offering on Thursday, as it steps up its endeavors to rid itself from a stake in the company that it obtained in a bailout four years ago. The Treasury Department will affix the price for the shares, following the markets' close on Thursday, with the sale occurring shortly afterwards. Shares fell by 86 cents, or 2.45 percent, to $34.10 in Wednesday afternoon trading, but they have seen large growth of late, as they are up around 19 percent since the beginning of 2013.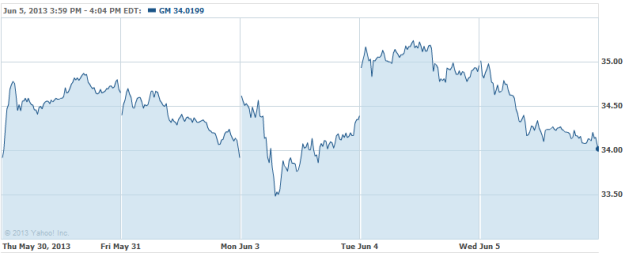 Hovnanian Enterprises (NYSE:HOV): Current price $6.03
The New Jersey homebuilder earned $1.3 million, or 1 cent per share, in the quarter ended April 30th, which was down 27 percent from $1.8 million, or 2 cents per share, year-over-year from 2012; in that quarter was included a $27 million gain on the extinguishment of debt. Hovnanian revenue jumped by 24 percent to $423 million from $341.7 million, thanks to stronger demand for new homes. Consensus was for a loss of 5 cents per share on $419.7 million in revenue, said FactSet.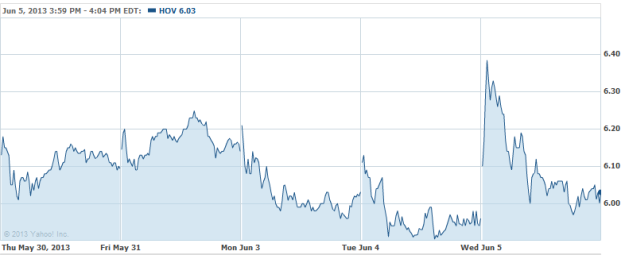 Juniper Networks (NYSE: JNPR): Current price $18.55
On Wednesday, Juniper announced the availability of Junos DDoS Secure, through which to protect data centers against increasingly complex Distributed Denial of Service attacks. A crucial part of Juniper's security portfolio, Junos DDoS Secure employs behavioral analytics and detailed network visibility to give scalable protection against all major types of such attacks. For enterprises and service providers having a major online presence, the potential loss of productivity and customers because of a network outage stemming from an attack can be devastating to business operations.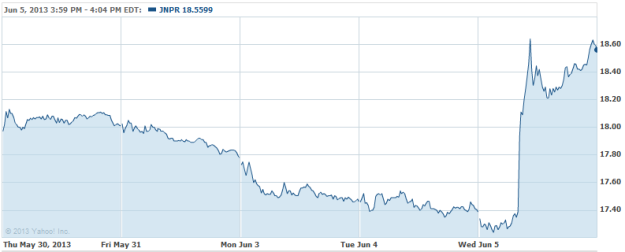 Don't Miss: How Is Ford Focusing on Gaining Ground in China?