Trouble in Paradise: Democrats Disagree on Student Loan Fix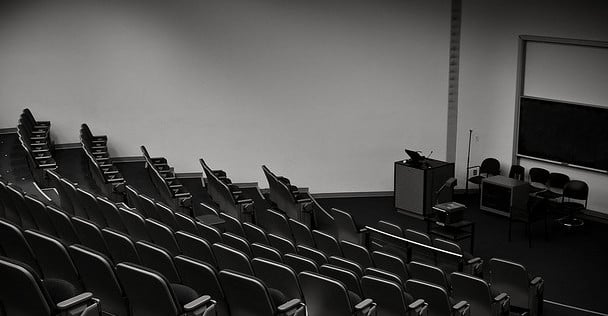 There's been a lot of rhetoric over the past few years about how Republicans — particularly some of those in the U.S. House of Representatives — have stood in the way of of legislation. President Barack Obama pinged the issue in a speech at Knox College on Wednesday afternoon, and called attention to the congressional gridlock that has characterized politics over the past few years (as it perhaps always has).
Many of these Republicans held their ground based on ideals or moral principles. During the fiscal cliff and sequester negotiations, the mantra of a balanced budget was championed by many conservatives, who were unwilling to support any piece of legislation that violated their principles — in this case, mostly related to taxation and government spending. They didn't want small changes, they wanted overhaul. They wanted reconsideration and redesign of the entire system.
The federal budget seems to have been put on the back burner for now, but there are still a couple of political footballs in play. Most recently, Congress has been tackling the issue of interest rates on student loans, which doubled on July 1 largely because of that signature gridlock. And this time, it seems like Democrats will take up the mantle of the small but vocal minority saying that a broadly-supported proposal doesn't go far enough — although it remains to be seen if opposition will lead to continued inaction.
The student loan deal on the table — called the Bipartisan Student Loan Certainty Act — was proposed by Senator Joe Manchin (D-W. Va.), Senator Tom Coburn (R-Okla.), and six other members from both parties on July 18. Like most other long-term proposals for student loan interest rates, the Bipartisan Student Loan Certainty Act would peg the interest rate on newly-issued loans at the rate on the 10-year U.S. Treasury note, plus some additional amount to "offset costs associated with defaults, collections, deferments, forgiveness, and delinquency."
The proposed addition is 2.05 percentage points on undergraduate loans, and 3.6 percentage points for graduate loans. This would retroactively shift the interest rate on loans taken out after July 1 to 3.86 percent for undergraduates, and 5.41 percent for graduate students. The interest rate would be fixed over the life of the loan. Interest rates would also be capped at 8.25 percent for undergraduates, 9.5 percent for graduates, and 10.5 percent for PLUS borrowers.
The deal has received support from both sides of the aisle, as well as President Obama, whose administration issued a statement on Tuesday urging Congress to move forward on the issue. If the new plan goes into effect, undergraduate loans taken out for this academic year will have an interest rate of 3.86 percent, instead of 6.8 percent. Unsubsidized graduate-level Stafford loans will pay just 5.41 percent interest, instead of 6.8 percent. Interest on GradPLUS and Parent PLUS loans would drop from 7.9 to 6.41 percent.
However, the proposal does have its critics. On Monday, Senator Elizabeth Warren (D-Mass.) and Senator Edward Markey (D-Mass.) suggested that the deal on the table doesn't do enough to protect students. One of the primary concerns held by the two senators is the amount of money that the government will be making off the loans. Warren pegs that amount at about $185 billion over the next 10 years, and she argues that student loans are not an avenue that the government should be using for gratuitous profit.
''I just want to see us bring that down some,'' Senator Warren told press. ''I'm going to push for it now and I'm going to keep pushing for it.'' Warren has referred to the plan on the table as a "teaser rate loan," one that looks good initially, but can increase as new loans are taken out in later years, and as the yield on the benchmark Treasury increases.
Senator Bernie Sanders (D-Vt.) is also a critic of the current proposal, and has urged President Obama to withdraw his support for it. "Under a so-called bipartisan proposal, interest rates would go up in five years to 7.25 percent for undergraduate loans, according to Congressional Budget Office projections. An undergraduate student could be forced to pay $5,462 more over the life of a loan than they would have been charged under rates in effect for the past two years. If the same CBO projections come true, parents by 2018 would be charged 9.7 percent on college loans," reads a statement issued by the senator's office.
"At a time when Democrats control the White House and the U.S. Senate, we should not support bad legislation almost identical to that passed by a very conservative, Republican-led House. Our job is to listen to the people who elected us and stand up for working families and their kids, not make their lives more difficult."
Don't Miss: Can U.S. Manufacturing Make a Second-Half Comeback?