Tuesday Morning Cheat Sheet: 3 Stories Moving Markets
Markets were mixed in Asia on Tuesday. Japan's Nikkei fell 0.29 percent to 13,529.70 and the yen paused its march lower, strengthening slightly to trade at 98.7585 to the dollar. The Hang Seng fell 1.08 percent in Hong Kong after the release of some disappointing economic data out of China. Australia's S&P/ASX 200 weathered the headwinds and climbed 1.0 percent for the day.
Markets soared in Europe in mid-day trading. Despite some underwhelming economic data of its own, Germany's DAX was up 1.11 percent, London's FTSE 100 was up 1.11 percent, and the STOXX 50 index was up 1.80 percent.
U.S. futures at 8:50 a.m.: DJIA: +054%, S&P 500: +0.42%, NASDAQ: +0.65%.
Here are three stories to keep an eye on:
1) Data Supports China's Moderate Growth: The HSBC Flash China Manufacturing Purchasing Managers' Index for April read 50.5, a 1.1 point decline from March and a two-month low. While the reading indicates that China's manufacturing industry is still growing, the rate of growth has slowed to close to zero.
Hongbin Qu, chief economist for China & co-head of Asian economic research at HSBC, commented: "New export orders contracted after a temporary rebound in March, suggesting external demand for China's exporters remains weak. Weaker overall demand has also started to weigh on employment in the manufacturing sector. Beijing is expected to respond strongly to sustain the economic recovery by increasing efforts to boost domestic investment and consumption in the coming months"…
2) Internet Sales Tax Takes a Step Forward: The U.S. Senate has voted to limit debate and move forward with a vote on a measure that would require out-of-state retailers to collect online sales tax. The measure, supported by brick-and-mortar retailers like Wal-Mart (NYSE:WMT) and Best Buy (NYSE:BBY), is opposed by various online retailers including eBay (NASDAQ:EBAY). For its part, Amazon (NASDAQ:AMZN) has expressed confidence that if the sales tax were to be implemented, it would still off the most competitive prices.
The White House also put its support behind the measure for the first time yesterday, ostensibly paving the way for success in the Senate. However, given that it represents a new sort of taxation, the measure's success in the House is far from guaranteed.
3) The Euro Zone Downturn Continues: The flash reading of the Markit Eurozone PMI Composite Output Index remained unchanged in April at 46.5. This indicates that business activity in the region remains in contraction, manufacturing and services both sliding for the month.
Commenting on the data, Chris Williamson, chief economist at Markit, said, "Thanks to an upturn in the survey at the start of the year, the PMI suggests that euro area GDP fell by around 0.2-0.3 percent in the first quarter after a 0.6 percent drop at the end of last year. However, the April reading points to a 0.4 percent rate of decline, with downside risks. Worryingly, the rate of loss of new business gathered further momentum, suggesting that activity and employment could fall at steeper rates in May."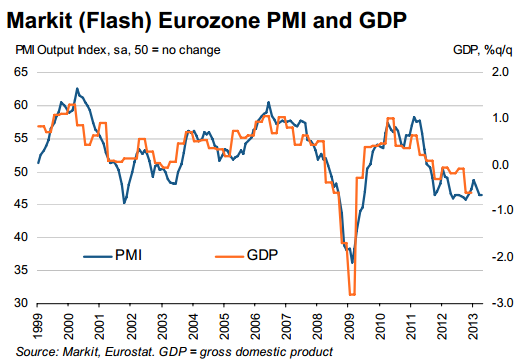 Don't Miss: Has Economic Austerity Failed Europe?