Tuesday Morning Cheat Sheet: 3 Stories Moving Markets
Major markets were mixed in Asia on Tuesday. Japan's Nikkei index hit the ground running after a long weekend and surged 3.55 percent, closing near five-year highs as the yen cooled off slightly to trade at 99.1550 to the dollar. The Hang Seng climbed 0.58 percent, while the S&P/ASX 200 edged down 0.24 percent.
Stocks advanced in Europe, sending Germany's DAX up 0.90 percent and to a new all-time high. London's FTSE 100 was up 0.37 percent, and the STOXX 50 index was up 0.75 percent.
U.S. futures at at 8:35 a.m.: DJIA: +0.20%, S&P 500: +0.18%, NASDAQ: +0.24%.
Here are three stories to keep an eye on:
1) Reserve Bank of Australia Cuts Rates: At its meeting on May 7, the Board of Governors of the RBA decided to lower the cash rate by 25 basis points to 2.75 percent, effective May 8. This is the seventh time the board has reduced the rate over the last 18 months.
Surveying the global economic situation, the board commented: "The global economy is likely to record growth a little below trend this year, before picking up next year. Among the major regions, the United States continues on a path of moderate expansion, and China's growth is running at a more sustainable, but still robust, pace. Japan has announced significant new policy initiatives aimed at strengthening demand and ending deflation. The euro area remains in recession. Commodity prices have moderated a little in recent months, though they remain high by historical standards."
2) Internet Sales Tax Bill Passes Senate: On Monday, in a 69 to 27 vote bipartisan vote, the U.S. Senate passed a measure that would require online retailers and shoppers to pay state sales tax. The measure will now head to the House of Representatives, where it is expected to receive opposition from members of the GOP who view it as an unnecessary tax increase. President Barack Obama has already expressed his support for it.
"The retail industry – the largest private sector employer – is rapidly changing and evolving," said Stephen Sadove, chairman of the board of the National Retail Federation in a statement. "Retailers compete for customers on many different levels, distribution channels and fronts, including service and selection, but they cannot compete on sales tax. Congress needs to address this sales tax disparity and allow retailers to compete freely and fairly. Retailers of all shapes, sizes and channels deserve a level playing field."
3) May Begins With Soft Retail Sales: Retail sales fell 1.0 percent on the week ended May 4, according to the ICSC-Goldman store sales report. A slight increase in gasoline prices likely negatively impacted spending behavior, but sales remain up a respectable 2.4 percent on the year.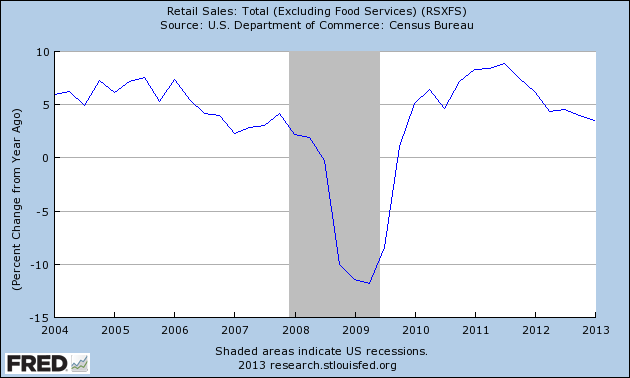 Don't Miss: Even These Mutual Funds Don't Want Lance Armstrong's Name.