Tuesday Morning Cheat Sheet: 3 Stories Moving Markets
Markets were mixed in Asia on Tuesday. Japan's Nikkei index edged down 0.16 percent as investors took profits after a fresh series of five-year highs. The yen strengthened slightly to trade at 101.5550 to the dollar. In Hong Kong, the Hang Seng index fell 0.26 percent, while in Australia the S&P/ASX edged up 0.20 percent.
European markets curbed early losses and advanced in mid-day trading on Tuesday. Germany's DAX was up 0.21 percent, London's FTSE 100 was up 0.06 percent, and the STOXX 50 index edged up 0.03 percent.
U.S. futures at 8:30 a.m.: DJIA: -0.02%, S&P 500: +0.20%, NASDAQ: +0.09%.
Here are three stories to keep an eye on:
1) German Investor Sentiment Moves Sideways in May: The ZEW Indicator of Economic Sentiment for Germany gained just 0.1 point on the month to 36.4, missing expectations for a greater increase to 40.0. The assessment of current conditions lost 0.3 points to land at 8.9, also below expectations for an increase to 10.9. ZEW President Clemens Fuest commented that the flat reading "may be due to the still poor economic situation in the euro zone, that is also reflected by the recent ECB interest rate cut."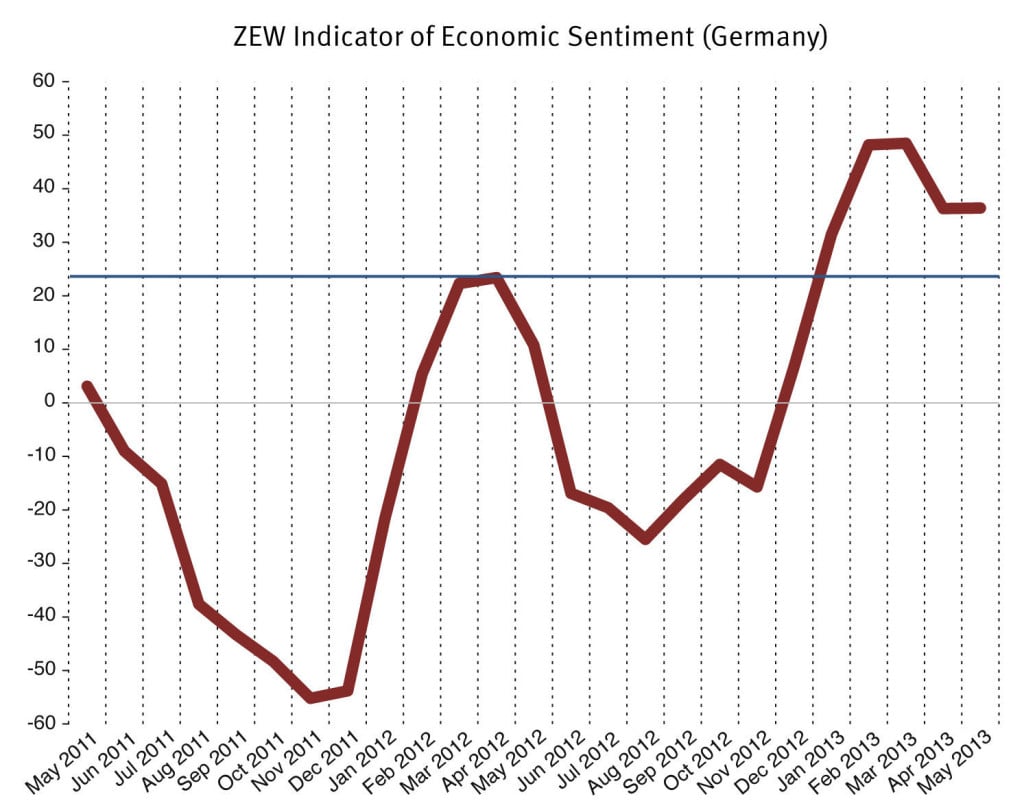 2) Japan's Corporate Goods Price Index Increases: Japan's Domestic Corporate Goods Price Index increased 0.3 percent on the month in April, according to preliminary data released by the Bank of Japan. On a contract currency basis, the Export Price Index fell 1.2 percent, and the Import Price Index fell by 1.0 percent.
The corporate goods price index is similar to the producer price index used by the U.S. and EU, and measures the price of goods transacted between businesses. Because of this, an increase in the CGPI followed by an increase in the CPI could spark concerns over inflation, which Japan will be increasingly sensitive to as its stimulus program goes into effect.
3) Euro Zone Industrial Production Picks Up: March industrial production grew by 1.0 percent on the month in the euro area 17 and by 0.9 percent on the month in the EU27, beating estimates for a sequential increase of 0.6 percent. This is a welcome break from a series of European economic indicators that have come in below expectations. However, production is still down by 1.7 percent on the year in the EA17 and by 1.1 percent in the EU27.
Energy climbed the most on the month at +3.8 percent in the EA17 and +3.0 percent in the EU27, followed by durable consumer goods at +1.9 percent and +2.2 percent respectively. Capital goods increased by 1.2 percent in both zones.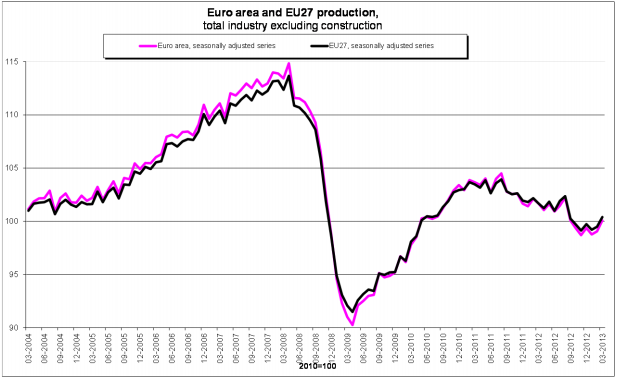 Don't Miss: Is This Obamacare Provision a Threat to Food Companies?