Tuesday Morning Cheat Sheet: 3 Stories Moving Markets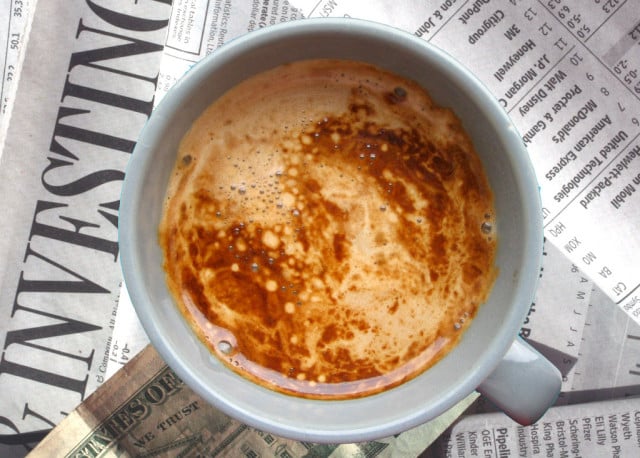 Markets advanced in Asia on Tuesday. Japan's Nikkei climbed 0.82 percent to 14,778.5 following a relatively optimistic monthly economic update from the Cabinet Office. In Hong Kong, the Hang Seng climbed 2.33 percent after government officials indicated that they wouldn't tolerate economic growth much below 7 percent per year. In Australia, the S&P/ASX 200 climbed 0.3 percent.
European markets were up in midday trading. Germany's DAX was up 0.27 percent, London's FTSE 100 was up 0.22 percent, and the STOXX 50 index was up 0.54 percent. U.S. stock futures also advanced.
At 8:40 a.m.: DJIA: +0.28%, S&P 500: +0.18%, NASDAQ: +0.15%.
1) French Business Climate: France's National Institute of Statistics and Economic Studies reported on Tuesday that the French business climate recovered "slightly" in July, with the index climbing one point to 87. This is still below its long-term average of 100, while the turning point indicator maintained a negative outlook. There was a marginal two-point improvement in the manufacturing and services climate indexes.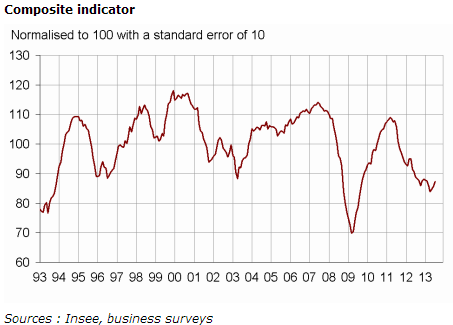 2) What's Cooking in Japan? "Concerning short-term prospects, the recovery is expected to resume as the improvement of the corporate profits leads to increases in household income and business investment, while exports pick up and the effects of the policies develop," Japan's Cabinet Office said — in a provisional translation — of its July Monthly Economic Report. "However, slowing down of overseas economies is still downside risk of the Japanese economy."
After 0.3 percent real GDP growth in 2011 and 1 percent growth in 2012, Japan's Cabinet Office is forecasting 2.5 percent growth in fiscal 2013. This gain is expected to be led by steadily increasing domestic and private demand, while public demand and government consumption taper off slightly. After several consecutive periods of deflation, Japan's consumer price index is expected to increase to +0.5 percent in fiscal 2013, which would signal some degree of success for the nation's aggressive monetary policy.
3) China's Bottom Line: GDP growth in China slowed to 7.6 percent in the second half of 2013. Relative to a normal rate of growth in the United States or Europe, this is absurdly fast — but the reality is that 7.6 percent is historically slow for China. First-half growth in 2013 was the slowest it's been in three years, and the slowdown has caused waves of concern, particularly because of a perception that China's government may be applying the brakes a little too vigorously in an effort to make sure the economy doesn't overheat.
But official comments have recently helped ease market participants. The government is aware of the concern over the slowdown and has suggested that it will use policy tools to make sure growth does not slow below 7 percent in the near to mid term.
Premier Li Keqiang has commented, "Economic operations should be managed in such a way that ensures that the growth rate, employment and other indicators don't slip below the lower limit and inflation does not exceed the upper limit. In such circumstances, the country can focus on restructuring and reform." Some of these changes will be short-term difficulties, including slower growth.
You can follow Dan on Twitter @WscsDan
Don't Miss: Detroit Bankruptcy: Lose-Lose Situation for Creditors and City.