Tuesday Morning Cheat Sheet: 3 Stories Moving Markets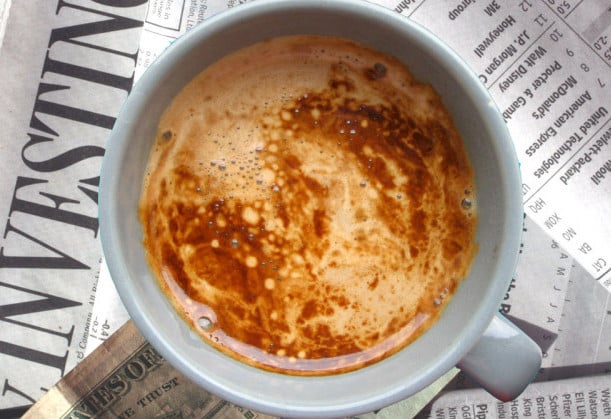 Markets were mixed in Asia on Tuesday as traders continued to grapple with economic malaise. Japan's Nikkei fell 0.69 percent to 13,542.40 while the yen strengthened slightly to 97.57 against the dollar. In Hong Kong, the Hang Seng fell 0.59 percent to 21,874.80, and on mainland China, the Shanghai Composite climbed 0.34 percent to 2,103.57. The S&P/ASX 200 climbed 0.11 percent to 5,141.22 in Australia.
European markets declined in midday trading despite a strong business climate report out of Germany. Germany's DAX was off 1.63 percent, London's FTSE 100 was off 0.57 percent, and the STOXX 50 index was off 1.68 percent.
U.S. futures at 8:35 a.m.: DJIA: -0.82%, S&P 500: -0.95%, NASDAQ: -1.13%.
Here are three stories to keep an eye on.
1. German Business Climate: German business sentiment continued to improve in August, according to the latest report from the Ifo Institute. The institute's business climate index — which is based off a survey of 7,000 firms in Germany — increased from 106.2 in July to 107.5 in August, its highest reading in a year. The present situation index increased from 110.1 to 112, and the expectations index increased from 102.4 to 103.3. Overall, firms are reporting conditions as "good" or "satisfactory," with the exception of the construction sector, which has reported negative sentiment for the past two months.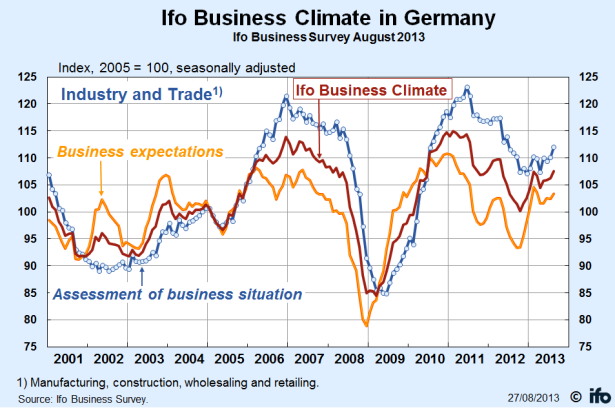 2. The Debt Ceiling: Advisers to President Obama are reportedly split over how best to pursue a deal on the looming debt ceiling. People familiar with the situation told Bloomberg that political and economic advisers aren't on the same page about how far the administration can push congressional Republicans on issues like the sequestration and additional tax reform.
On May 17, because the federal borrowing limit had been hit once again, the Treasury began financing the government through extraordinary temporary measures. These measures were enacted to give Congress enough time to reach a deal that would balance the budget, and that time is running out. Commenting in a refunding statement, the Treasury said, "Based on current projections of cash flows and extraordinary measures, it appears Treasury will have room to continue financing government operations so that Congress can address this when they return after Labor Day."
The government's fiscal year will come to an end on September 30, and public debate on the issue of the debt ceiling, government spending, and the possibility of increased taxes — something many Democrats still favor if large spending cuts are going to go on the table — is accelerating just in time. The president, for his part, will be forced to defend the Affordable Care Act and announce a new chair of the Federal Reserve.
3. Seniors: Obamacare Marketplaces Don't Change Medicare
When discussion turns to the Affordable Care Act and the insurance exchanges it will create, much attention is given to the Obama administration's concern that not enough young people will enroll, whether insurance premiums will skyrocket to unaffordable levels, and exactly who will be eligible for subsidies. For the individual mandate to be successful, it has been restated over and over that between 2.6 million and 2.7 million cheap-to-insure young adults need to purchase coverage via the exchanges to balance the risk presented by the millions of older or sicker people who will likely flock to the marketplaces when they open. But this description has left some seniors confused.
"You hear programs on the radio about the health care law and they never talk about seniors and what we are supposed to do," 72-year-old Barbara Bonner of Reston, Virginia, told Kaiser Health News for an article titled: "Do we have to go sign up like they're saying everyone else has to? Does the new law apply to us seniors at all and if so, how?" If little of the administration's efforts have been devoted to explaining how Obamacare exchanges will affect seniors 65 or older who are covered by Medicare, it is because the online marketplaces will not influence how they access health care… (Read more.)