Tuesday Morning Cheat Sheet: 3 Stories Moving Markets
The markets closed down again in Asia overnight. After five days of gains, the Nikkei fell 1.9 percent after Masaaki Shirakawa, the Governor of the Bank of Japan, announced he will step down three weeks early. The yen also strengthened slightly, and is trading at 92.88 to the dollar. The Hang Seng fell 2.27 percent, weighed on by brewing political tension in Europe. The S&P/ASX 200 was off 0.51 percent.
At mid-day, the European markets seem to be shaking off Monday's steep losses like a bad dream. London's FTSE 100 was up 0.63 percent, Germany's DAX was up 0.34 percent, and the STOXX 50 was up 1.08 percent.
U.S. futures at 8:40 a.m.: DJIA: +0.35%, S&P 500: +0.39%, NASDAQ: +0.38%.
Here are three stories to keep an eye on today:
1) Masaaki Shirakawa, Governor of the Bank of Japan, will step down three weeks before his term is due to end, accelerating a transition of power to Prime Minister Shinzo Abe and the Liberal Democratic Party. Shirakawa was instrumental in helping stabilize Japan in the wake of the global credit crisis, but has come under fire recently because of ongoing economic stagnation in the country.
Some analysts are expecting that the resignation will accelerate the massive monetary easing actions championed by the Prime Minister, who has promised hundreds of billions in domestic stimulus spending and a weakening of the yen, which would be a boon to long-suffering exporters. As the third-largest national economy in the world, and with many exporters competing against American companies, the U.S. markets have a close eye on the changes Japan is making to its economic policy.
2) While the average duration of long-term unemployment remains high, the incidence rate has fallen over the past few years. This means that fewer people have been out of work for over six months, but those that stay unemployed are staying unemployed for longer.
An economic letter by Rob Valletta at the Federal Reserve Bank of San Francisco examines unemployment duration, the characteristics of long-term unemployed, and their prospects of finding a job as the U.S. labor market enters what is hopefully a sustained cyclical recovery. One key insight is that while the number of job losses has fallen since the recession, the rate of job creation has remained sluggish. This contributes to the dilemma of the long-term unemployed.
3) Final Purchasing Managers' Index data for January shows that the euro-zone economy is healing. The Eurozone Composite PMI report, compiled by Markit, shows the final composite output index at 48.6, which compares to 47.2 in December. This is a ten-month high and above the flash estimate of 48.2. The sub-50 reading still indicates that all-sector output is in contraction, but slowly improving numbers suggest that the rate of decline is slowing.
However, as with most indicators that encompass all of the euro zone, the report reveals divergent paths for different regions. Germany's all-sector output rose to 54.4, a 19-month high, representing healthy growth. Meanwhile, France's all-sector output fell to 42.6, a 46-month low, representing a concerning rate of contraction.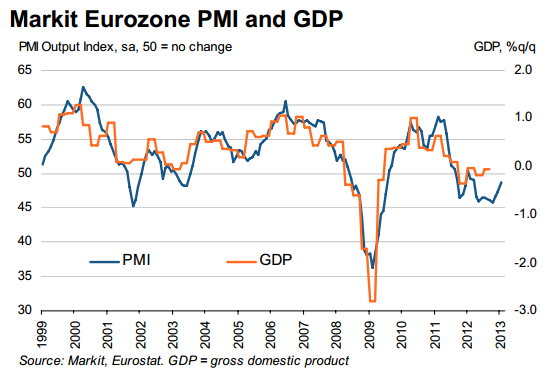 Don't Miss: Is Mr. Market Suffering from a Super Bowl Hangover?