Tuesday's Mid-Day Movers: 3 Stories Driving Markets
The U.S. equity markets edged higher on Tuesday afternoon despite ongoing concerns about the economic stability of the euro currency bloc.
At 12:15 p.m.: DJIA: +0.59%, S&P 500: +0.50%, NASDAQ: +0.27%.
Here are three stories moving markets on Tuesday afternoon:
1) The stock market reached new highs in March, but consumer confidence is not following the uptrend.
Any progress among consumer confidence made in February was easily erased this month. The index of consumer attitudes plunged to 59.7 in March, compared to a revised three-month high of 68.0 in February, according to The Conference Board, an industry group. The results were worse than every estimate in a Bloomberg survey of 79 economists, which ranged from 60 to 72. Overall, economists expected a reading of 67.5… (Read more.)
2) The International Council of Shopping Centers and Goldman Sachs Retail Chain Store Sales Index dropped unexpectedly by 1.7 percent on a week-over-week basis for the week ended March 23. For comparison, last week sales rose 1.4 percent. On an annual basis, the sales picture was only slightly better; the 1.7 percent weekly decline pushed the year-over-year rate to an increase of just one percent. This drop, from the previous week's gain of 2.3 percent, brought the same-store sales index to its lowest level since the economic recovery began… (Read more.)
3) "The two headline composites posted their highest year-over-year increases since summer 2006," said David Blitzer, Chairman of the Index Committee at S&P Dow Jones Indices, in a statement on Tuesday. "This marks the highest increase since the housing bubble burst."
The S&P/Case-Shiller Home Price Indices showed that for the twelve months ended January 2013, home prices increased 7.3 percent in the 10-City Composite and 8.1 percent in the 20-City Composite. What's more, 19 out of 20 cities showed acceleration in year-over-year returns, Detroit being the only city to grow at a slower rate than before.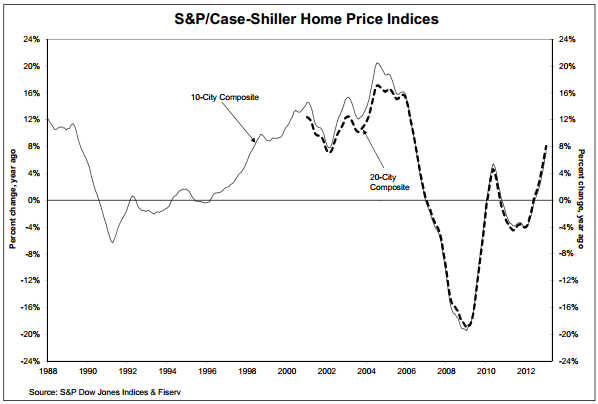 Don't Miss: Rising Home Prices Suggest Broad Housing Market Recovery.