Tuesday's Midday Movers: 3 Stories Driving Markets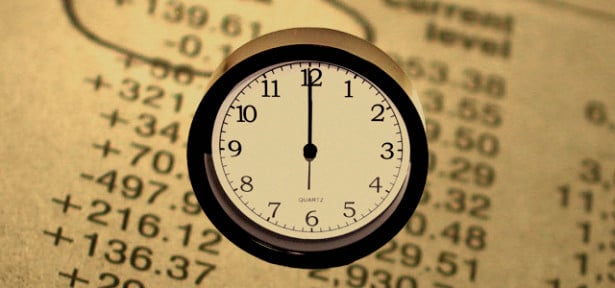 The major U.S. stocks were wavering on Tuesday as investors digested sluggish retail forecasts and global economic data. As of noon:
DIJA:

+0.01%

to 15,977.44
S&P 500:

-0.06%

to 1,790.37
NASDAQ:

-0.04%

to 3,947.44
Gold:

+1.78%

to 74.17
Oil:

+0.27%

to 21.98
U.S. 10-Year:

+0.6%

to 26.94
Here are three stories helping shape the market Tuesday afternoon.
1. The Fed Is In Focus, But Inflation Is Going Nowhere East: Outside of the uncertain direction of fiscal policy in the United States, the big question on the mind of most traders, investors, and economists has to do with monetary policy. Through its ongoing program of quantitative easing, in which it is purchasing $85 billion worth of agency mortgage-backed securities and longer-term securities each month, the U.S. Federal Reserve is pouring liquidity into the market in the form of low-cost credit.
The intended consequence of accommodative monetary policy is to lower long-term interest rates and stimulate economic activity. Ostensibly, easier access to credit has encouraged U.S. consumers to move forward with big-ticket purchases such as automobiles and homes and has incentivized businesses to pursue growth instead of sitting on their hands. To some degree, this is what happened. Interest rates have been relatively low, car sales have been strong, and for a period — until taper talk pushed interest rates higher — mortgage refinancing and applications were surging… (Read more.)
2. Recovery Begins In the Aftermath of Midwestern Storm: Many are beginning to think about what it will take to recover in the aftermath of a devastating storm that swept across parts of the Midwest this weekend, Reuters reports. With most of the primary impact occurring on Sunday, a bout of severe weather rumbled through the Midwest last weekend, leaving a wake of destruction in its path. While many areas experienced heavy winds, thunderstorms, and persistent rain, some of the hardest-hit areas were those where tornadoes touched down… (Read more.)
3. Here's Why the D.C. Insurance Commissioner's Critique Ended Badly: One day after William P. White — the insurance commissioner for the District of Columbia — critiqued President Barack Obama for allowing Americans to keep policies not compliant with the Affordable Care Act's consumer protection policies, he was dismissed from his job.
Through a source familiar with the matter, CNN reported that the insurance commissioner was not forced out of his position because of the stance he took on how the president rephrased his promise that any American who liked his or her current health insurance plan could keep it. Rather, White's behavior was deemed inappropriate because of "how he went about it," according to the district official who spoke to CNN… (Read more.)
Don't Miss: Fresh Market Records: Are Dow 20,000 and S&P 2,000 Next?