Tw telecom inc. Earnings: Margins Shrink
tw telecom inc. (NASDAQ:TWTC) reported its results for the first quarter. Tw telecom inc. is a national provider of managed network services specializing in Ethernet and data networking, Internet access, local and long distance voice, VPN, VoIP and network security services.
Don't Miss: Wall St. Cheat Sheet's newest Feature Trades of the Month!
tw telecom inc Earnings Cheat Sheet for the First Quarter
Results: Swung to a profit of $12.6 million (8 cents/diluted share) in the quarter. tw telecom inc. had a net loss of $4.5 million or a loss 3 cents per share in the year earlier quarter.
Revenue: Rose 6.9% to $332.5 million YoY.
Actual vs. Wall St. Expectations: TWTC fell in line with the mean analyst estimate of 8 cents/share. Estimates ranged from 5 cents per share to 13 cents per share.
Quoting Management: "Delivering accelerated revenue growth, increased bookings4, impressive margins and ongoing strong cash generation, while continuing our share repurchase plan, was a great start to the year," said Larissa Herda, tw telecom's Chairman, CEO and President. "Our growth is the result of our focus to help make our customers successful by addressing their growing business needs through innovative network solutions. This focus has driven our investment in product innovation, network capabilities, systems and tools to further serve customers' needs. We're pleased with the trajectory of the business as we work to further increase our capabilities, take market share and grow the business."
Key Stats:
Gross margin shrunk 0.6 percentage point to 58%. The contraction appeared to be driven by rising costs as the figure rose 8.4% from the year earlier quarter while revenue rose 6.9%.
Over the last five quarters, revenue has increased 5.4% on average year over year. The biggest increase came in the most recent quarter, when revenue rose 6.9% from the year earlier quarter.
Competitors to Watch: Level three Communications, Inc. (NASDAQ:LVLT), AT&T Inc. (NYSE:T), CenturyLink, Inc. (NYSE:CTL), Cbeyond, Inc. (NASDAQ:CBEY), AboveNet, Inc. (NYSE:ABVT), Verizon Communications Inc. (NYSE:VZ), PAETEC Holding Corp. (NASDAQ:PAET), Cincinnati Bell Inc. (NYSE:CBB), XO Holdings Inc. (XOHO), and Sprint (NYSE:S).
Stock Performance: Shares of TWTC are unchanged from the previous close of $22.05.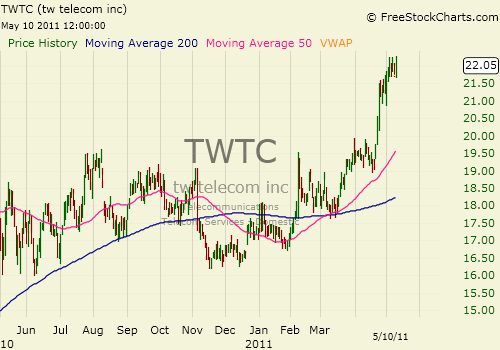 Don't Miss Wall St. Cheat Sheet's newest Feature Trades of the Month!