Twitter Is Now Public, Another Tesla Fire: Market Recap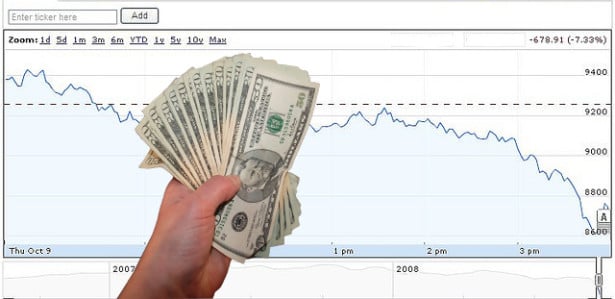 U.S. stocks fell during trading on Thursday after the Commerce Department reported better-than-expected growth for the GDP, which led investors to speculate that the Federal Reserve may start cutting stimulus sooner than forecast. The Commerce Department reported that the gross domestic product grew at a 2.8 percent annualized rate in the third quarter, rising on increased inventories. The market decline comes after the Dow hit a record high yesterday.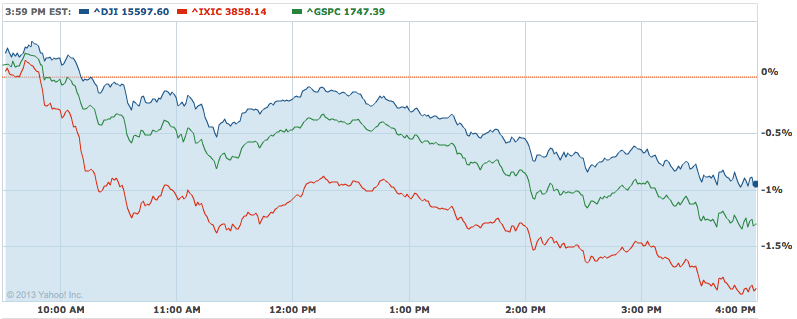 Gold: -0.90% to $1,306.00 per ounce Oil: -0.49% to $94.34 per barrel U.S. 10-Year: -1.02 to 2.613%
Q3 GDP Growth: Pleasant Surprise, But the Economy Needs More: Economists are still worrying how large of an effect the 16-day partial shutdown of the federal government — which cost the United States a total of $24 billion, according to Standard & Poor's economist Beth Ann Bovino — will have on fourth-quarter gross domestic product. For now, economists expect the economy to grow at an annualized rate of between 1.5 percent and 2 percent with Washington's political crisis reducing fourth-quarter GDP by some 0.3 percent. At that rate, overall 2013 growth will amount to amount to around 2 percent.

Here Is How the Job Market Is Shaking Off Political Troubles: Firings have not increased in the wake of the 16-day partial shutdown of the federal government. Unemployment data is no longer as muddled from Washington's manufactured political crisis, meaning the Department of Labor's Thursday release of jobless claim numbers is a much more accurate depiction of the trajectory of the labor conditions than the market has been given for several weeks.
Here's Why the ECB Cut Interest Rates to New Historic Lows: In a surprise move, the European Central Bank cut its main rate from 0.5 percent to 0.25 percent, the New York Times reports. In a development largely unexpected by economists, the ECB decided to slash its primary interest rate to a new historic low at its monthly meeting.
Here's your cheat sheet to today's top stocks stories:
Twitter Inc. (NYSE:TWTR) is officially a public company, and — as many expected — the market has jumped all over itself for the chance to grab a piece of Twitter's pie. The stock was priced at $26 per share on Wednesday night, 30 percent higher than the top of the $17-$20 per share price range initially floated, and jumped 73 percent at its Thursday open on the market to $45.10. Twitter shares continued to climb after the first trade, rising as high as $50.09, then dropping slightly to close at $44.90.
AT&T (NYSE:T) has reportedly been selling call data on suspected terrorists and their correspondents to the CIA willingly for years, according to a report from the New York Times. Government officials who spoke to the Times said that the CIA pays AT&T $10 million a year to use the company's data base of phone records, including international calls made by Americans and calls made by non-AT&T customers while roaming on AT&T's network.
Tesla (NASDAQ:TSLA) shares plummeted 7.5 percent on Thursday to close at $139.77 after reports of another Model S fire went viral. According to Reuters, the fire occurred Wednesday in Smyrna, Tennessee on Interstate 24, and was the result of an accident, rather than a spontaneous combustion. The affected Model S was driven by 38-year-old Juris Shibayama and the driver was not injured, but the blaze is still expected to have serious effects on Tesla stock.
J.C. Penney Co. (NYSE:JCP) showed a small, but significant for the struggling company, 0.9 percent increase in same-store sales. That 0.9 percent growth was the retailer's first month-over-month increase in almost two years. So October's increase in same-store sales — a key measure of retailer strength — was a welcome life raft and a sign that the change in strategic direction employed by retailer's management had begun to show fruits.
Qualcomm Corp. (NASDAQ:QCOM) shares closed down 3.8 percent as the chipmaker reports earnings per share of $1.05, which missed by 3 cents, and $6.48 billion beat, by $130 million. Sales grew 42 percent in the chip division to $4.46 billion over the year prior; for royalties, sales surged 19 percent, to $1.87 billion, though the latter's EBT profit of $1.62 billion remains much larger than the chip division's $702 million. Research and development spending grew 23 percent year-on-year, down from the third quarter's 36 percent swell. SG&A expenses grew 11 percent, down from the third quarter's 19 percent.
Whole Foods (NASDAQ:WFM) — the market leader of natural and organic supermarkets — has not impressed investors when compared to more traditional grocery store chains. Its shares have gained around 40 percent this year to date, while Safeway (NYSE:SWY) has advanced nearly 90 percent, Kroger (NYSE:KR) has jumped close to 65 percent, and Supervalu (NYSE:SVU) has rallied 178.54 percent. Still, Whole Foods is not exactly a bargain.

Groupon (NASDAQ:GRPN) closed Thursday's regular session down 5.05 percent at $9.50 per share and fell as much as 10.8 percent further in post-market trading after announcing third-quarter results that fell short of expectations. Groupon reported that revenue increased 5 percent on the year to $595.1 million, falling short of the mean analyst estimate of $615.69 million. Groupon reported a net loss attributable to common shareholders of $2.6 million, or 0 cents per share, which was short of expectations for earnings of 1 cent per share.
Follow Jacqueline on Twitter @Jacqui_WSCS
Don't Miss: The Complete Story of Twitter, the IPO.