Twitter's Blowout First Day, The Gap Crushes Estimates, and 3 More Hot Stocks
Twitter Inc. (NYSE:TWTR): Twitter managed to pack on a healthy 73 percent gain during its first day of trading on Thursday, reaching a substantial $31 billion valuation after factoring in options and RSUs. Analysts have jumped on the stock with a few downgrades, to Hold and Sell, and an initiation at Sell from Hudson Square after the run-up. Twitter stock is cooling somewhat, down around 4 percent amid a see-sawing trading session.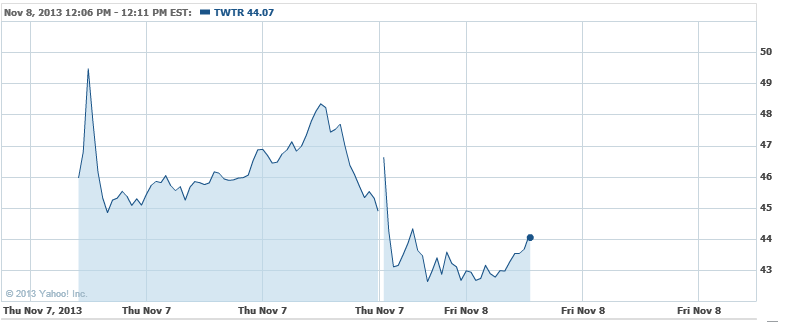 The Gap Inc. (NYSE:GPS): Gap shares are surging after the clothing retailer blew estimates out of the water with a ] comparable-store sales gain of 4 percent in October, compared to analyst consensus of 0.1 percent. By brand, Gap rose 5 percent, Banana Republic picked up 1 percent, and Old Navy rose 2 percent. Brick-and-mortar sales were accentuated by a strong performance from Web sales, leading the company to raise its guidance.

Cheniere Energy (AMEX:LNG): Shares of Cheniere are up slightly as it reports earnings per share of -46 cents and revenue of $67.71 million. Net operating losses were largely affected by general and administrative expenses "due to non-cash compensation expenses from the granting of awards under the long-term incentive plan" for the Trains 1 through 4 at Cheniere's Sabine Pass Liquefaction Project, as well as by terminal operating expenses, "which resulted primarily from costs incurred to purchase LNG to maintain the cryogenic readiness of the regasification facilities at the Sabine Pass LNG terminal."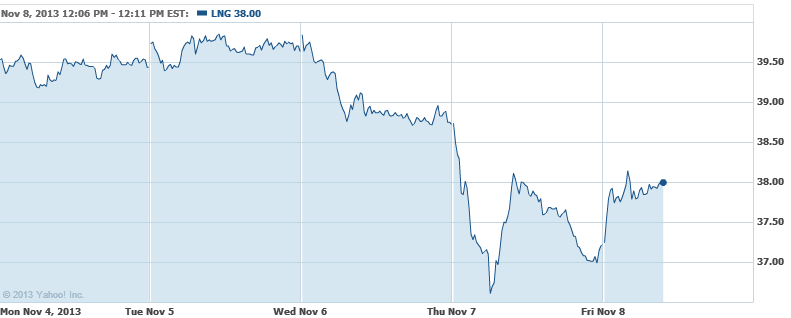 Caesars Entertainment (NASDAQ:CZR): A New York  state legislator says that Caesars wants to build a casino facility in the state after voters there approved the construction of up to seven casinos in a vote taken on Wednesday. Caesars is reportedly looking at the mid-Hudson region of Sullivan County; however, the company — which has a significant debt load — would have to fare better than it did in Massachusetts, where it ultimately pulled the plug on its efforts.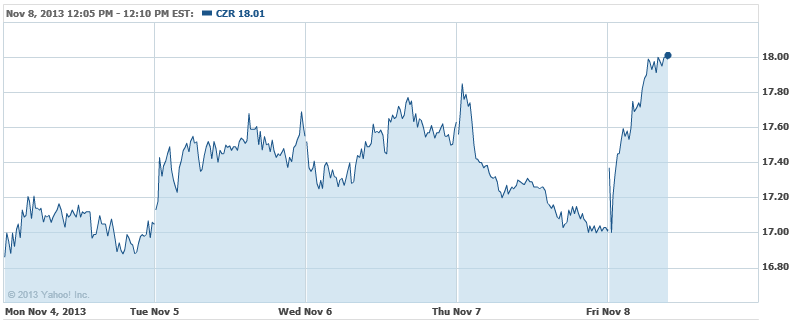 Johnson & Johnson (NYSE:JNJ): Johnson & Johnson is setting up to open a new round of bidding for its diagnostic unit slated for Monday, reports Reuters. Private equity interests from Blackstone and Danaher will be pit against other bids from other private equity players like Bain, CVC Capital, BC Partners, and Carlyle Group. The unit is expected to command a bid of around $4 billion, having pulled down $2 billion in sales this past year.

Don't Miss: Will iPad Mini Production Problems Send Apple Back to Samsung?