Tyson Foods Inc. Earnings: Margins Shrink on Record Sales
S&P 500 (NYSE:SPY) component Tyson Foods Inc. (NYSE:TSN) reported its results for the second quarter. Tyson Foods, Inc. and its subsidiaries produce, distribute and market chicken, beef, pork, prepared foods and related products.
Don't Miss: Wall St. Cheat Sheet's newest Feature Trades of the Month!
Tyson Foods Earnings Cheat Sheet for the Second Quarter
Results: Net income for the meat products company remained steady at $159 million (42 cents/diluted share) from the same quarter a year ago.
Revenue: Rose 15.7% to $8 billion YoY.
Actual vs. Wall St. Expectations: TSN fell short of the mean analyst estimate of 43 cents/share. Estimates ranged from 28 cents per share to 47 cents per share.
Quoting Management: "Overall, it was a solid quarter, and I'm pleased with the results," said Donnie Smith, Tyson Foods' president and chief operating officer. "We produced record sales for the second quarter on substantially higher sales prices in addition to increased volume. All segments except Chicken were within or above their normalized operating margin ranges. While Chicken was well below its normalized range, it was profitable, and we believe it will continue to be profitable in the third and fourth quarters. Our Beef segment remains solid, and our Pork segment continues to produce outstanding returns. Prepared Foods is moving in the right direction, and we've got more work to do in this segment."
Key Stats:
Over the last five quarters, revenue has increased 11% on average year over year. The biggest increase came in the most recent quarter, when revenue rose 15.7% from the year earlier quarter.
Competitors to Watch: Smithfield Foods, Inc. (NYSE:SFD), Hormel Foods Corporation (NYSE:HRL), Sanderson Farms, Inc. (NASDAQ:SAFM), Pilgrim's Pride Corp. (NYSE:PPC), ZHONGPIN INC. (NASDAQ:HOGS), Diamond Ranch Foods, Ltd. (DRFO), Seaboard Corporation (AMEX:SEB), and Energroup Holdings Corp (ENHD)
Stock Performance: Shares of TSN are unchanged from the previous close of $18.89.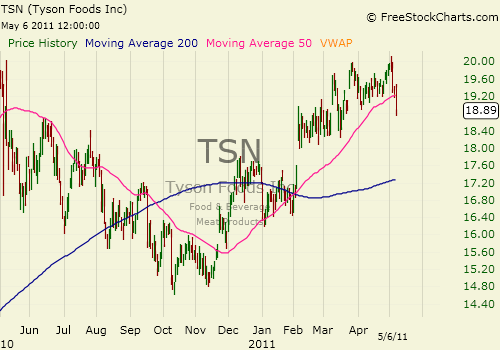 Don't Miss Wall St. Cheat Sheet's newest Feature Trades of the Month!