Tyson Foods Named Top Pick and 4 Stock Analyses Turning Heads
Tyson Foods Inc. (NYSE:TSN): Current Price: $22.95
BMO Capital has called Tyson a Top Pick and the firm thinks that Tyson's earnings power is underestimated and will be driven by material internal improvements, outperforming margins, improving pork/beef fundamentals, and international expansion. The firm gives a Buy rating and a $28 price target on the stock.

Thoratec Corp. (NASDAQ:THOR): Current Price: $36.96
Oppenheimer reports that Thoratec is to provide its 2013 guidance on February 5 and the firm has added that the company has a history of being conservative in regards to its first outlook of the year. Oppenheimer is convinced that the stock may be muted during the near-term, but it thinks that the shares will possess various positive catalysts later in the year. The firm recommends purchasing the shares on any pullbacks.

Check Point Software Technologies Ltd. (NASDAQ:CHKP): Current Price: $50.95
According to Oppenheimer, Check Point and Fortinet (NASDAQ:FTNT) could potentially benefit during the near-term from disruptions to Dell's (NASDAQ:DELL) SonicWall unit that may possibly result if Dell is made private. The firm keeps Outperform ratings on both Check Point and Fortinet.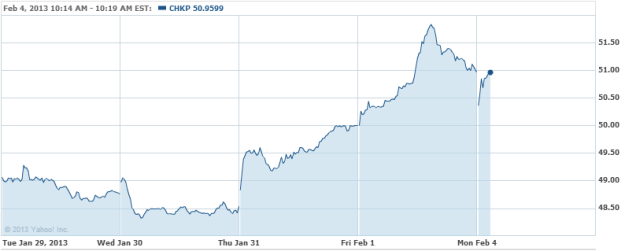 Keryx Biopharmaceuticals Inc. (NASDAQ:KERX): Current Price: $7.16
Keryx saw a 22 percent decline on Friday due to the company's equity financing deal, influencing Oppenheimer to believe that the financing will not be able to prevent the company from looking to sell itself. The firm is convinced that the stock has reached an attractive entry point.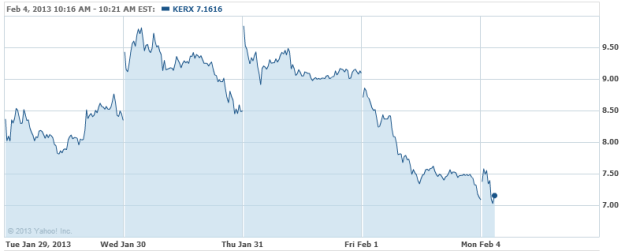 Eastman Chemical Co. (NYSE:EMN): Current Price: $72.76
RBC Capital has decided to raise its price target on the company after its report of lower than expected Q4 volumes, but it increased its 2013 EPS guidance. The firm is convinced that the company's new guidance is conservative, but it keeps its Sector Perform rating on the shares.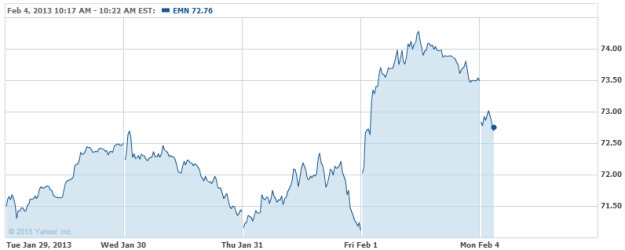 Investing Insights: Is Beazer Homes a Sensible Investment?