U.S. Consumers Kept Their Wallets Open in June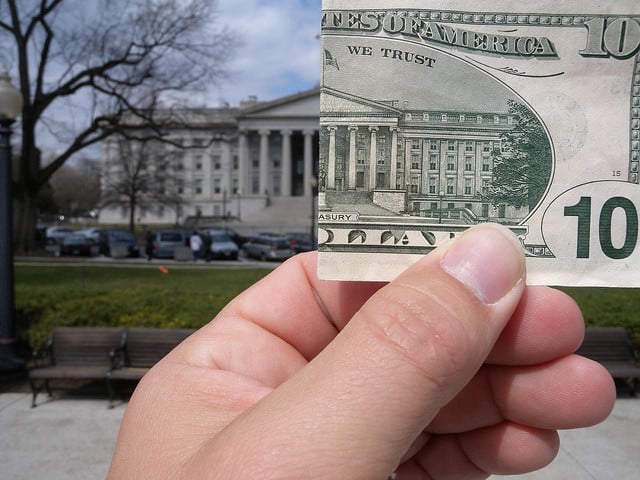 The spending metric, along with its complementary savings measurement, are very indicative of the health of the economy. The saying goes that it is not what you make, but what you keep. However, while that may be sound advice, often what is good for the individual — meaning saving money — may not be so good for society and for the economy, and that phenomenon is known as the "paradox of thrift."
Economists examine personal saving and spending habits closely, because consumer spending accounts for approximately 70 percent of gross domestic product. With both government spending and exports weak in recent months, the economy is relying even more heavily on consumer spending to drive growth. While economic output picked up in the second quarter of this year, increasing from an annual pace of 1.1 percent to 1.7 percent, consumer spending dropped to a 1.8 percent growth rate in the second quarter, after rising 2.3 percent in the first quarter.
Data released by the U.S. Department of Commerce on Friday showed that personal income increased just 0.3 percent in the month of June, missing expectations. Economists polled by Dow Jones Newswires had forecast personal incomes would rise 0.5 percent. Even worse, in chained 2009 dollars, personal income actually decreased by 0.1 percent, although wages did increase to $38 billion in June, compared with May's gain of $19.1 billion.
Despite the concerning consumer spending figure contained in the GDP report for the March through June quarter, Friday's Commerce Department report showed that Americans upped their outlays in the last month of that period, even while personal incomes grew less than expected. Personal spending rose 0.5 percent in June — a gain that was double May's increase and the biggest since February.
However, the June report did contain one potentially disturbing figure. Americans' disposable income, adjusted for inflation, dropped for the first time in many months. This drop suggests that spending may not increase much in coming months, as previously believed.
But inflation remained subdued in June, which will likely reassure Federal Reserve policymakers of their decision to keep the $85 billion-a-month bond purchases in place to stimulate the economy. The Commerce Department's price index for personal consumption expenditures — the central bank's main gauge for inflation — increased just 1.3 percent that month, which was higher than the 1.1 percent year-over-year increase recorded in May, but well below the Fed's 2 percent inflation target.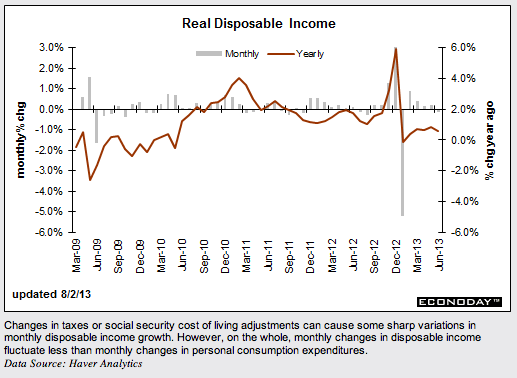 Follow Meghan on Twitter @MFoley_WSCS
Don't Miss: Italian Banking Scandal Has Landed JPMorgan a New Legal Fight.