Chevron Loses Massive Appeal
When Chevron (NYSE:CVX) bought Texaco in 2001, it also acquired responsibility for the environmental damage that the company caused in Ecuador between 1964 and 1992. Citizens of the Lago Agrio region of the country filed a lawsuit against the company for damages that now total about $18.2 billion. An Ecuadorean court passed judgement against the company in February, 2011. Chevron, of course, has fought the ruling.
In August, a district judge in Manhattan declined rule on the case. The company counter-sued lawyers for Ecuadorean plaintiffs alleging them of racketeering and fabricating evidence. The judgement was suspended while litigation was in progress, and eventually the injunction blocking enforcement was thrown out. Chevron appealed to higher authorities.
Catalysts are critical to discovering winning stocks. Check out our newest CHEAT SHEET stock picks now.
The company claimed that the judgement is fraudulent and unenforceable — pointing to jurisdiction boundaries and the legitimacy of the claim — but on October 9, the U.S. Supreme Court denied Chevron's bid to block judgement on the case.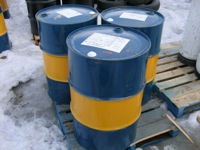 Meanwhile, Alfa-Access-Renova has notified British Petroleum (NYSE:BP) that if its bid for the company's 50 percent stake of their joint venture TNK-BP is unsuccessful, they may sell their stake to a third party or initiate an IPO. The move is designed to put AAR in a more flexible position if BP sells some of its shares to a rival, state-owned OAO Rosneft.
Separately, Marathon Petroleum (MPC) bought a 451,000 barrel-per-day Texas refinery from BP in a deal that will total around $2.5 billion. Marathon Petroleum shares are settling in afternoon trading after popping earlier in the day.
Not to be forgotten,  Halliburton (NYSE:HAL) opened an Advanced Perforating Flow Lab on October 8. According to the press release, Halliburton "once again is stepping ahead and leading the industry" in regards to the technology. The new facility should help the company develop technology to assist in deep-water drilling.
Don't Miss: Here's Why Coal is Climbing Despite Downgrade.