U.S. Dollar Breakdown Not Confirmed in Treasury Market
The US Dollar tends to move in the same direction as US Bonds. In fact, US Bonds have showed a tendency to lead the greenback. Bonds bottomed in 2007 well ahead of the greenback, which bottomed in 2008. Bonds also peaked at the end of 2008 while the buck peaked a few months later.
The chart below shows the US Dollar and the 10-Year Treasury. Note that the buck has broken below 2009-2010 support while the 10-Year has actually maintained an uptrend during that period. Key on on the last few months and you will see a divergence. The greenback is tanking while the 10-year held its February low.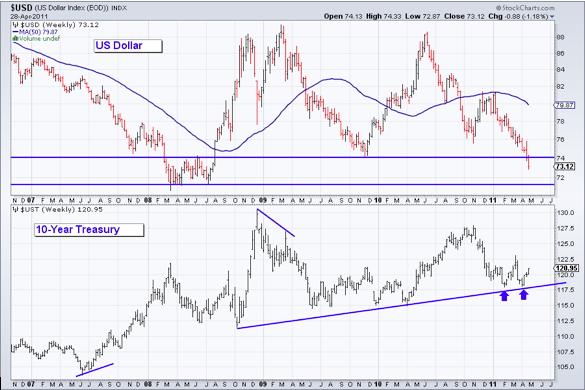 Meanwhile, take a look at sentimentrader.com's public opinion of the US Dollar. Its only 19% bulls, is at a multi-year low and basically plunged since the start of the year.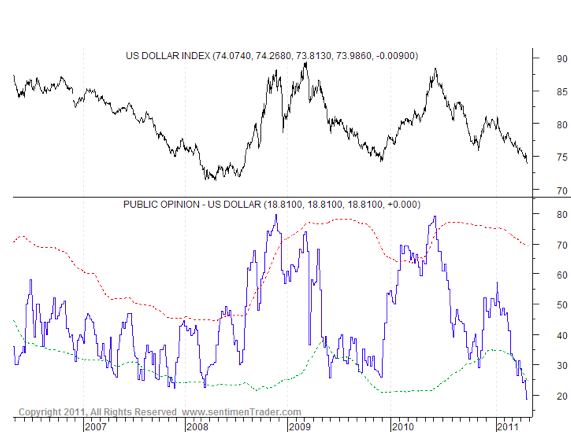 Long-term we are dollar bears, bond bears and commodity bulls. However, the primary trend could temporarily reverse course. The US Dollar is oversold, close to major support and has extremely bearish sentiment. Meanwhile, the 10-Year is showing a negative divergence. Somepoint soon we are likely to see a dollar bounce and that would certainly impact Commodities. For more coverage of Commodities, the US Dollar, Bonds and equities, consider a free 14-day trial to our premium service.
Jordan Roy-Byrne, CMT
Trendsman@Trendsman.com
Jordan Roy-Byrne, CMT
Another great read: What Bubble? Commodities Have More Upside in 2011>>