U.S. Economic Confidence: Better, But Not Fully Positive

If you ask around, Americans will say that the economy is their top concern for the nation's future. According to an open-ended Gallup survey published at the end of June, 17 percent of Americans say that "the economy" is their greatest worry, while related economic topics flesh out the top three: debt/deficit/nation's finances at 11 percent, and employment/jobs at 6 percent.
The news wasn't necessarily surprising. The latest employment situation report put headline unemployment at 7.6 percent, and economists from the U.S. Federal Reserve have commented that much of the recent decline (from highs of 10.0 percent in October of 2009) can be attributed to a reduction in labor force participation and not new hiring. Household income has declined for two consecutive years, the Fed is engaged in experimental and risky monetary policy, and the nation has a debt burden of over $16 trillion.
All in all, you don't need to be an economist to see that things aren't great. Gallup's latest report on U.S. economic confidence shows that while conditions have improved relative to recent lows, more Americans believe that things are getting worse.
U.S. economic confidence held near a five-year high in June, according to Gallup's Economic Confidence Index. The index closed the month and -8, down slightly from -7 in May, and averaged -9 for the second quarter. The second-quarter average is the highest on record, with data beginning in 2008.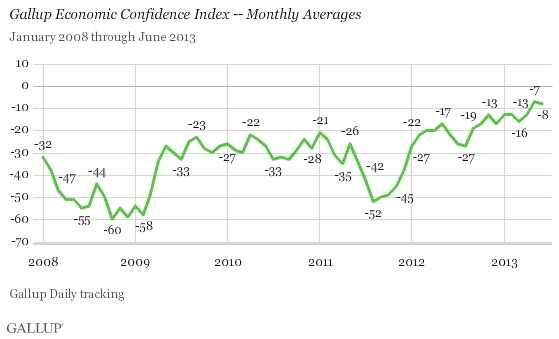 The news is ostensibly positive, but the negative reading still indicates that more Americans remain negative on the economy than positive. The net economic outlook — a gauge of future conditions — in June was -3, with 49 percent saying things are getting worse and 46 percent saying things are getting better.
It may be an unsurprising conclusion, but wealthier Americans feel more optimistically about the economy than lower- and mid-income Americans. Broken into income groups at the $90,000 household income line, those above are net positive on the economy for the second month in a row, while those below are still net negative.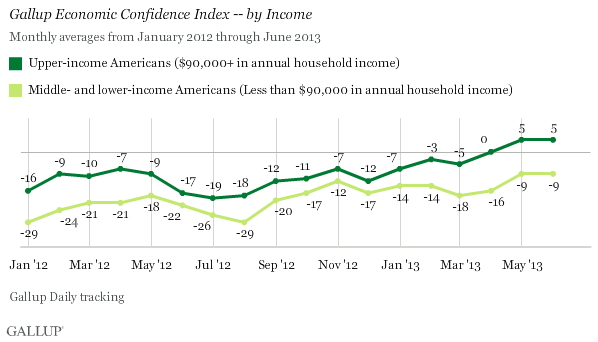 Gallup points out that while confidence generally seems to be improving, there are still risks on the table. Rising interest rates, uncertainty about monetary and fiscal policy, as well as increased volatility in the stock market could weigh on sentiment in the coming weeks.
Don't Miss: 6 Clear Signs the Housing Recovery Is Real.