U.S. Economy to Consumer: Please Spend More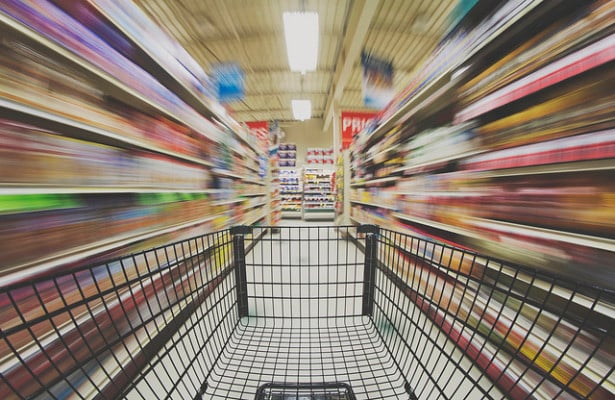 That retail sales in the United States increased in July for the fourth straight month, signaling that the U.S. economy is recovering from the hit it was dealt by January's tax hike and March's across-the-board federal spending cuts. Yet, the fact that they rose a meager 0.2 percent indicates that consumers spent cautiously in July and that the economy has remained relatively weak after a tough spring.
The Department of Commerce reported Tuesday that retail and food services sales for July edged up 0.2 percent to $424.5 billion, which followed the 0.6 percent increase in June. According to the release, the slower rate of sales reflected a smaller number of purchases of expensive items like cars, furniture, and electronics. Comparatively, economists had been expecting a 0.3 percent increase in retail sales.
There were several positive aspects of the report: retail sales increased 5.4 percent from July of last year and consumers spent more on meals, clothing, and sporting goods, while department store sales grew at the fastest pace in more than a year. Automobile sales were weak, posting a 1 percent decline after rising 2.9 percent in June, but that weakness was expected. Excluding cars, retail sales rose 0.5 percent after increasing just 0.1 percent in June.
Modest improvements in the job market and increasing household wealth, which is the result of higher home values and higher stock market returns, have given more established American consumers the confidence to spend. That in turn is good news for the economy because consumer spending accounts for approximately 70 percent of the country's gross domestic product.
Since government and business spending have remained weak, the economy is depending even more on household spending to fuel growth, meaning greater increases consumer spending would help offset the tougher economic environment brought on by the higher taxes and lower government spending.
The U.S. economy grew at an anemic 1.7 percent annual rate in the second quarter and while many economists expect the growth rate to pick in the second half of the year, that largely depends on the whether consumers spend more. "Nothing looms larger than the health of the consumer in a second-half pickup," economists at Citigroup wrote last week in a research note, seen by The Wall Street Journal. However, the stubbornly high unemployment rate, stagnant wages, and higher payroll taxes have kept many American consumers cautious, keeping purchases to their immediate needs.
Still, weekly snapshots of the retail sector have shown modest improvements recently. On Tuesday, both Johnson Redbook and the International Council of Shopping Centers, in conjunction with Goldman Sachs, released their readings of retail sales for the week ended August 10.
Same-store sales remained relatively flat, according to the ICSC-Goldman Sachs Index, decreasing 0.2 percent, week over week, after expanding 0.3 percent in the previous week. In general, the weekly rate has been volatile in recent readings, but the year-over-year rate, which rose 2.6 percent has been edging higher, alongside the four-week moving average, which is not at 2.4 percent, its highest point since mid-June.
According to ICSC Chief Economist Michael Niemira, "aggregate chain store sales slipped a tad over this past week as some shifts in consumer spending occurred." In particular — department, apparel, drug, grocery, and specialty stores saw an improvement in sales, while discounters, dollar, and electronics "fell shy of their year-before customer traffic pace."
Similarly, the Johnson Redbook Index showed that year-over-year sales are strengthening significantly. The 3.7 percent rate of growth recorded for the past week lifted the index's four-week average by 2 tenths to 3.4 percent, which is the highest average since April of last year.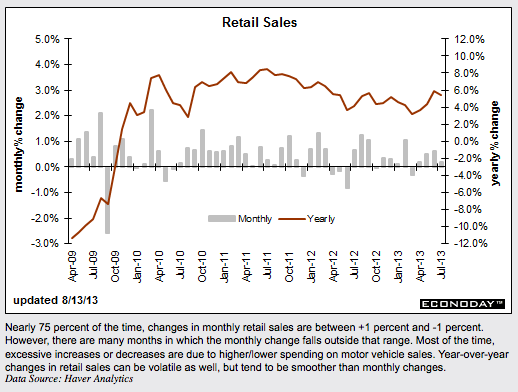 Follow Meghan on Twitter @MFoley_WSCS
Don't Miss: Is the Greenback Heading for Greener Pastures Soon?