U.S. Factories Show Strength As New Orders Increase
New orders for durable goods increased 3.3 percent on the month in April, according to preliminary data released by the U.S. Census Bureau. This compares against a 5.9 percent contraction in orders in March and against expectations for an increase of just 1.1 percent, indicating that there is some unexpected resilience in factories.
Overall it's been a pretty awkward week for the U.S. equity markets. Chairman of the Federal Reserve Ben Bernanke's testimony on the economic outlook before Congress on Wednesday stole the spotlight from domestic and global economic indicators. Weekly unemployment numbers failed to rouse much attention — positive or negative — but the housing market continued to show signs of strength.
Earlier in the week, Markit reported that the slowdown in U.S. manufacturing continued in May. The firm's Flash Manufacturing purchasing managers index registered 51.9, its lowest reading since October, and the second consecutive month of slowing growth.
The purchasing managers index is a gauge of the economic health of the manufacturing sector. Broken down into five components — new orders, inventory levels, production, supplier deliveries, and employment — the flash Markit PMI index gives investors an advanced reading of what actual conditions are like in the private sector. Combined with other indicators like the Census Bureau's report, this information will help inform the economic backdrop against which they have to make investment decisions.
"With the PMI hitting a seven-month low, the U.S. manufacturing economy continues to show signs of weakening. Growth has slowed sharply in recent months, down from an annualized pace of 4.9 percent in the first quarter to just 1 percent in May," commented Markit Chief Economist Chris Williamson. "The goods-producing sector is therefore likely to have provided only a modest boost to the U.S. economy in the second quarter, providing further worrying signs that growth remains lackluster."
The Census Bureau's report is also broken down into five components: new orders, shipments, unfilled orders, inventories, and capital goods. By component, new orders increased 3.3 percent to $222.6 billion, shipments declined 0.6 percent to $227.1 billion, unfilled orders increased 0.3 percent to $996.2 billion, inventories increased 0.4 percent to $377.9 billion, and new orders for capital goods increased 3.3 percent to $76.1 billion.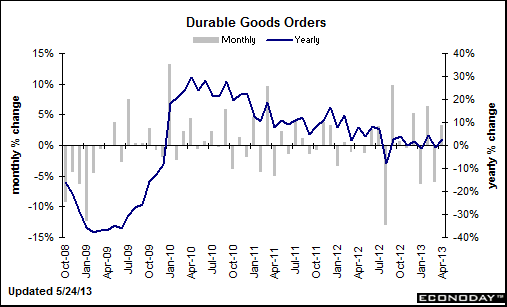 Don't Miss: AAII Sentiment Survey: Pessimism Reaches Its Lowest in One Year.