U.S. Housing Market: Still in Recovery Mode?
"Despite some recent mixed economic reports for March, housing continues to be one of the brighter spots in the economy," David M. Blitzer, Chairman of the Index Committee at S&P Dow Jones Indices, noted in a press release announcing the gains made by the housing market last month. Standard & Poor's/Case-Shiller Home Price Indices, a leading measure of U.S. home prices, showed average home prices increased 8.6 percent and 9.3 percent for the 10- and 20-City Composites, respectively, in the 12 months ending in February 2013.
"The 2013 first quarter GDP report shows that residential investment accelerated from the 2012 fourth quarter and made a positive contribution to growth," added Blitzer
In fact, all 20 cities covered by the indices posted year-over-year increases for at least two consecutive months, while the annual growth rates of 16 cities rose from the previous month. Only in Detroit, Miami, Minneapolis, and Phoenix did the annual growth rate decelerate. The overall 9.3 percent gain represented one of the largest annual growth rates in close to seven years and a increase from the 8.1 percent year-over-year gain reported in January.
Year over year, Phoenix posted the largest gain, with an increase of 23 percent, followed by San Francisco with an almost 19 percent gain and Las Vegas with a nearly 18 percent gain in housing prices. Comparatively, New York, Boston, and Chicago saw the smallest year-over-year price improvements.
On a seasonally adjusted basis, home prices rose 1.2 percent nationwide in February from January, and at that pace, the gain exceeded the average month to month increase recorded during the years leading up to the recession, Trulia chief economist Jed Kolko told USA Today. But he said that the housing market has not yet become a bubble; large price gains from low price levels — which is the current reality — are very different than large price gains from high price levels, which is what happened before the housing market crashed.
February's price increases were propelled by increased demand and a shrinking inventory of homes for sales — including fewer foreclosed properties, which tend to sell at a discount to other homes. However, economists have expressed concerns in recent weeks that the strong price increases in metropolitan markets are not sustainable and they are not reflected in the broader housing market.
"This report needs to start being taken with a grain of salt," Stan Humphries, chief economist at real estate web site Zillow, told USA Today. The cities included in the indices are "overly skewed" to quickly rebounding markets – particularly in the Southwest and on the West Coast, he added.
While prices are increasing, home sales have been held back slightly by the lack of houses for sale, according to the National Association of Realtors. The industry group reported Monday that March's pending home sales made a modest gain of 1.5 percent, while existing home sales in March dropped 0.6 percent from February's level. Tight inventories will likely continue to push prices higher in some markets. In March, there was a 4.7-month supply of homes for sale, which means that all available homes would sell in that time frame if sales continued at March's pace and no additional supply was put on the market. For comparison, a six-month supply is considered balanced.
Despite the overall increases posted by the S&P's/Case-Shiller Home Price Indices, several market indicators are suggesting that home sales and prices are set for a slowdown. Zillow's first-quarter home value index showed just a 0.5 percent increase from the fourth quarter of last year, marking the smallest quarter-to-quarter gain since the housing recovery began.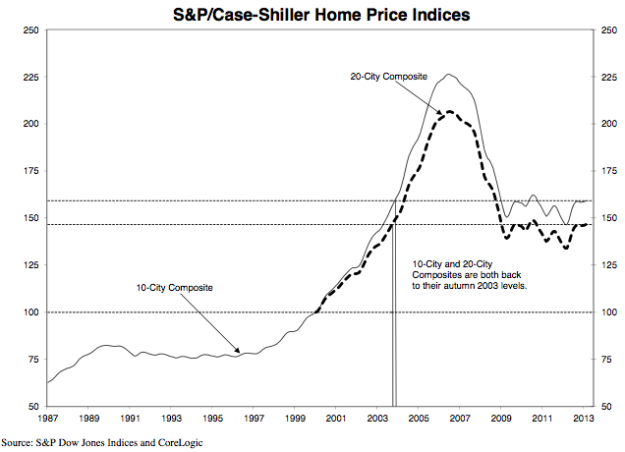 Don't Miss: Has a Dull April Hurt U.S. Manufacturing?