U.S. Manufacturing Continues Roller Coaster Ride
While orders for new factory goods rose in February, the gauge of planned business spending dropped, providing an indication that factory activity is rebounding at only a moderate pace.
Markets have been flush with generally positive economic news in recent weeks. Despite two consecutive reports of initial jobless claims increasing at the end of March, the housing and labor markets are showing evidence of recovery — a trend which stands in contrast to fears that were circulated in the wake of the fiscal cliff and sequester crises. Factory orders have fluctuated in the past several months, but February's data fits with the current trend.
In its monthly reading, the U.S. Commerce Department announced Tuesday that orders for manufactured goods edged slightly higher in February than analysts had predicted. Economists polled by Reuters had forecast an increase of 2.9 percent, but the gauge came in at 3 percent. This upswing is good news for the United States' manufacturing sector as January's reading showed a decline of 2 percent.
Factory orders — which represent the dollar level of new orders for both durable and non-durable goods — received a significant boost from the aircraft industry, a sector that is often prone to sharp swings. As Reuters reported, orders for civilian aircraft jumped 95.1 percent. Leading this massive gain was high production from Boeing (NYSE:BA); the manufacturer reported orders for 179 aircraft in February, up from the two orders the company received in January…
In basic terms, the report drew a positive picture of economic growth, yet when the more volatile categories of the manufacturing sector were removed, the gains appeared much more modest. Excluding aircraft, orders for non-defense capital goods, which is seen as a measure of business confidence and spending plans, fell 3.2 percent. This segment is also often described as a core reading for orders. However, the gauge has been volatile in recent months. In January, the segment recorded a 6.7 percent increase — its biggest jump since March 2010.
Balancing the drop in non-defense capital goods, orders for durable goods — or manufactured products expected to last three years or longer — jumped 5.6 percent.
The Commerce Department's report gives investors a means to keep their fingers on the pulse of the economy. As the manufacturing sector is a major component of the United States' economy, the data on orders provides insight to the demand for manufactured goods and shows how busy factories will be in coming months as manufacturers work to fill those orders.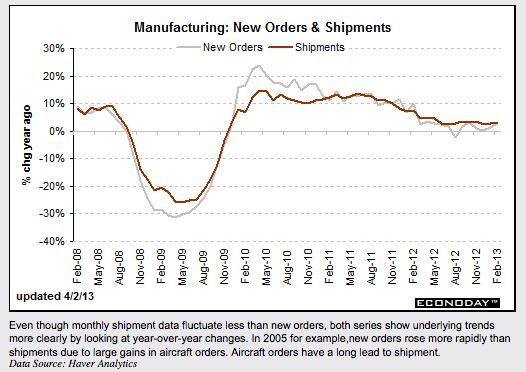 Don't Miss: Did The Bailout Of Cyprus Change The Tone Of The European Crisis?