U.S. Manufacturing Stagnates As Core Factory Orders Fall
All told, U.S. manufacturing conditions are pretty stagnant. Wednesday's factory orders report, released by the U.S. Census Bureau, showed that total new orders for manufactured goods increased by 1.0 percent in April. The increase is less than the 1.4 percent gain forecast by economists, and follows a downwardly-revised decline of 4.7 percent in March.
The increase was led by an 8.4 percent jump in new orders for transportation equipment. Transportation orders are generally highly volatile and are often stripped out of core measures for factory orders. Excluding transportation, new orders actually fell 0.1 percent, vindicating previous reports suggesting weakness in the manufacturing economy.
Earlier in the week, Markit released the final reading of its manufacturing purchasing managers' index. The index read 52.3, indicating overall growth led by increases in output and new orders. However, annualized growth as measured by the index slowed from nearly 5 percent in the first quarter to approximately 1 percent by the May report.
Markit Chief Economist Chris Williamson commented that "the May survey paints a downbeat picture of U.S. manufacturing business conditions. Output, order books, and employment are all growing modestly, suggesting the sector is at risk of stalling. The main weakness is from export markets, where new orders fell marginally due to weakening global demand."
Underwhelming conditions in America's manufacturing economy were highlighted by by the Manufacturing ISM Report on Business. The ISM manufacturing index fell to 49 in May, indicating contraction after five periods of growth. The widely-watched employment component f the index fell 0.1 points to 50.1 in May. This is the component's 44th consecutive month of growth, but the trend may be abandoned if overall conditions continue to slide.
At minimum, a change in direction in new orders and production means a slowdown in hiring, if not workforce reductions. Industry participants have noted that sales have suffered in the wake of government spending cuts and a still-cautious private sector.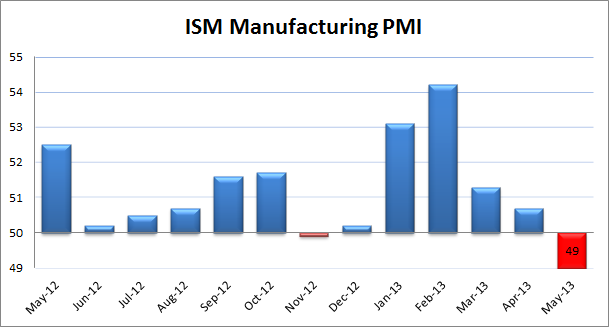 Earlier in the week, the Census Bureau reported that spending on manufacturing construction in April fell 2.5 percent to an annualized rate of $48.9 billion. On the year, manufacturers have added just $1 billion to the total value of construction put in place. April's annualized rate is slightly above the 2012 average of $48.0 billion.
Don't Miss: Productivity and Costs: Workers Do More For Less In First Quarter.