U.S. Wholesales: A Plus for Sustainable Economic Growth?
Investors in the U.S. stock markets look to the Commerce Department's report on wholesale trade to give them a look below the surface of the visible consumer economy, especially as activity at the wholesale level can be a precursor for consumer trends. In particular, by looking at the ratio of inventories to sales, investors can analyze whether production will grow in coming months.
While consumer confidence has indicated that that Americans still have confidence that the economic recovery will continue to chug forward at a modest pace, consumer spending — a component that comprises about 70 percent of the U.S. gross domestic product — has been on somewhat rocky ground as of late. Over the past few weeks, both the International Council of Shopping Centers and Goldman Sachs Retail Chain Store Sales Index and Redbook's weekly measure of sales at chain stores, discounters, and department stores have etched out only slight gains or dropped. However, Tuesday's wholesale report showed signs that steady and sustainable economic growth will increase in coming months…
A burst of sales made for a rare inventory draw of minus 0.3 percent in the wholesale sector in February. The move was concentrated in non-durable goods like food products, drugs, and farm products — all segments where price swings often affect levels significantly. Wholesale inventories for durable goods increased to a small degree, but that expansion was outpaced by a slightly higher rate of sales.
In particular, total wholesale sales surged 1.7 percent, or $422.5 billion, from the revised January level, one of the strongest increases in two years. However, sales were quite soft in January, making for an easy comparison. Combined with the draw in inventory, the rise in sales pulled the stock-to-sales ratio in the wholesale sector from January's slightly inflated 1.21 to 1.19. For further comparison, the ratio recorded for February 2012 was 1.18.
Inventories in the factory sector for February also indicated that levels are well balanced against sales. Businesses in the United States kept inventories low throughout the fourth quarter, and as sales have remained solid, inventories have stayed at low levels so far in the first quarter — a positive sign for steady economic growth. When the business inventories report is released on Friday, following the March retail sales report, the picture will be fleshed out further.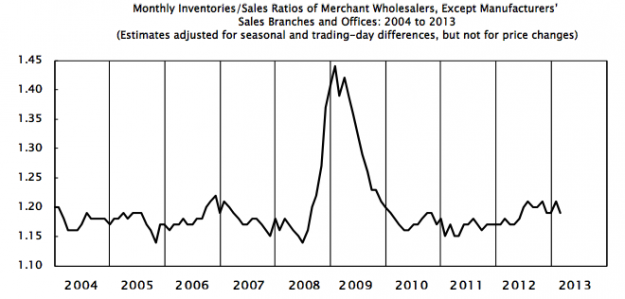 Don't Miss: Are Investors Running to the Hills with Jim Rogers?