UBS Raises Cisco Price Target & Reiterates Buy and 2 Other Hot Stocks to Watch
Cisco Systems Inc. (NASDAQ:CSCO): Current price $25.94
Analyst Amitabh Passi at UBS has reiterated his Buy on Cisco shares and also raised his price target from $26 to $28.50, writing that he believes the firm's component suppliers have performed in such a way that hint Cisco could report fiscal fourth-quarter revenue nearer the higher end of its forecast range from 4 to 7 percent year-over-year growth or $12.12 billion to $12.5 billion — against a consensus of $12.4 billion. Cisco will report its results on August 14, after the close.

Dendreon Corp. (NASDAQ:DNDN): Current price $3.55
Shares are down more than 20 percent mid-morning Friday after the Dendreon reduced its estimate on sales of its prostate-cancer drug Provenge while seeing weaker-than-anticipated revenue. Dendreon announced after the Thursday close that it does not expect a sales increase in the second half sufficient to meet its goal of increasing Provenge sales year-over-year. Provenge was approved in 2010 but only following a lengthy review process and has seen heightened rivalry of late from cancer drugs made by Johnson & Johnson and Astellas Pharma Inc.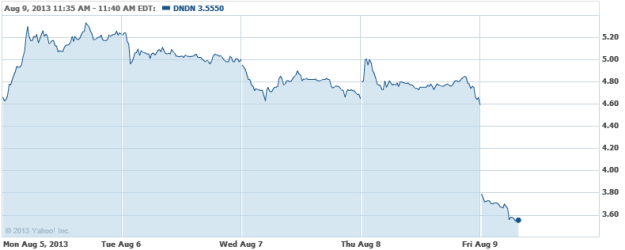 America Movil (NYSE:AMX): Current Price $20.90
America Movil has made a $9.6-billion offer for the 70 percent of Dutch telecoms group KPN it does not already own, challenging an arch-competitor's attempt to acquire KPN's German business. In July, Telefonica offered $11 billion to buy KPN's E-Plus, disrupting America Movil's costly move into Europe. Together, America Movil and Telefonica control around 60 percent of mobile phone business in Latin America. The Mexican company's unexpected move to acquire stakes in KPN and Telekom Austria brought their rivalry to Europe, while observers think that the battle on the Continent could go on for months.