UK Regulator to U.S. Banks: Let's Check Those Numbers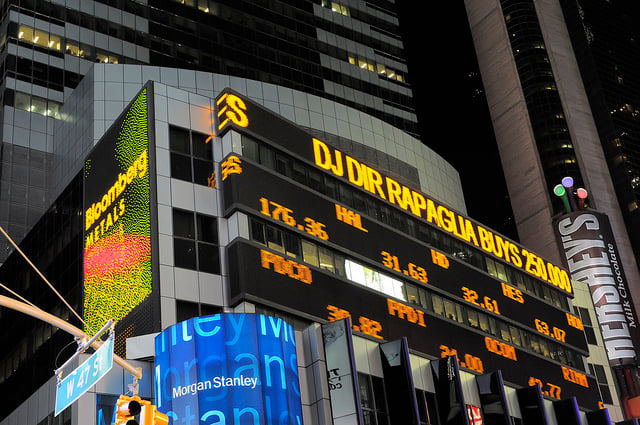 The Financial Conduct Authority, a regulator for the United Kingdom, is asking that Morgan Stanley (NYSE:MS) cough up some information — and news of its investigation has legal minds ready for a scandal. The FCA is looking into the foreign exchange market as are regulators in the U.S. Morgan Stanley isn't alone in being questioned with nine other banks also being asked for data.
None are yet under formal investigation though, according to CNBC, because regulators are still trying to determine if market manipulation actually occurred. An insider in the matter told CNBC that the investigation could grow to concern more than the initial ten banks being questioned at present. Lloyds Banking Group (NYSE:LYG) confirmed that it was a second of these ten banks contacted, but neither Lloyds or Morgan Stanley has made any moves against internal staff yet.
Insiders suspect that both Stanley and Lloyds will come out of the matter cleanly — though the same may not be true of the other eight, which include Barclays (NYSE:BCS), Royal Bank of Scotland Group (NYSE:RBS), Citigroup (NYSE:C), Deutsche Bank (NYSE:DB), JPMorgan Chase (NYSE:JPM), and UBS (NYSE:UBS) — all of which have confirmed involvement in the matter — and some of which have frozen employment on relevant staff members.
"The FCA opening an investigation into the FX market is an indication there is some evidence of possible wrongdoing. It doesn't sound as widespread as the allegation of Libor-rigging, but the probe is gaining force with U.S. and Swiss involvement as well. It may well result in more fines against the banks involved and individuals being called into question," said Peter Lodder — barrister at 2 Bedford Row — according to Bloomberg.
While no wrongdoing was suggested in the request to banks, those involved are undoubtedly aware of what's at stake. A CNBC source close to one of the banks involved said that, "We have been very pro-active, and we haven't seen evidence of manipulation, some of the language used by employees involved meant we needed to do something."
Don't Miss: Do Investors Care About Earnings Anymore?