Under Armour Up on Earnings, Credit Suisse Can Handle the Regulatory Heat, and 3 More Hot Stocks
Under Armour (NYSE:UA): UA released upbeat earnings today, propelling the stock substantially higher on news that it experienced revenue growth of 23 percent, to a total of $455 million for the quarter. Diluted earnings per share increased a whopping 160 percent to $0.16, and a new advertising campaign started earlier in the month is working to continue to the momentum the stock has experienced. Accessories net revenue increased 30 percent to $51 million, and direct sales to customers grew 29 percent year-over-year.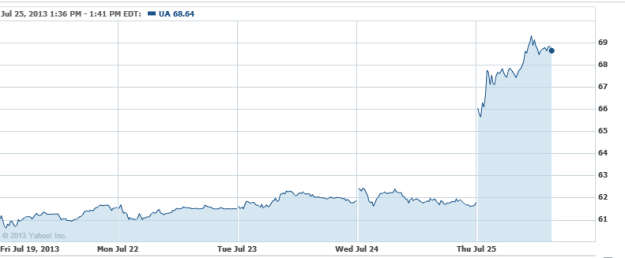 Credit Suisse (NYSE:CS): The Swiss banking giant is liking their position amid stiffer rules for financial institutions across the globe, based on comments by chief executive officer Brady Dougan, who said that his bank can cope with higher interest rates. Earnings seem to confirm this, showing a well-performing investment bank, with after-tax returns on equity of 13 percent. Dougan also said in the conference call that because Switzerland was one of the first countries to incorporate Basel III rules, which tighten up banking practices, that Credit Suisse is at a competitive advantage, having had more time to cope with the changes.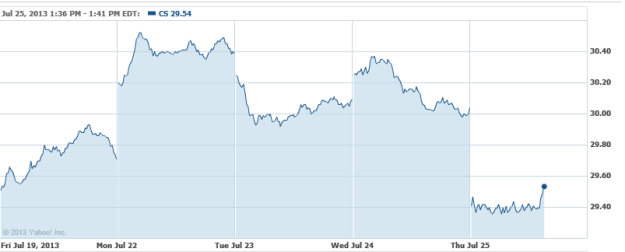 Unilever (NYSE:UL): Unilever reached underlying sales growth of 5 percent for the first half of 2013, with emerging market sales up 10.3 percent, and its core operating margin reaching 14 percent. Unilever's operating profit for the first half of 2013 was 3.9 billion euros, an increase of 14 percent, and net profit was 2.7 billion euros, an increase of 13 percent.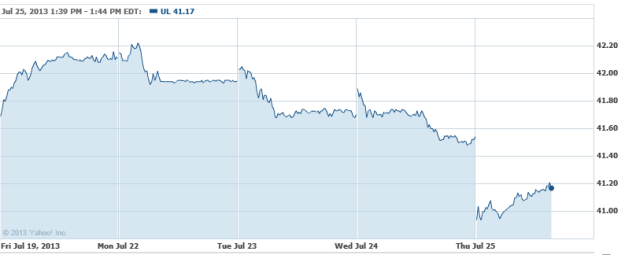 Dow Chemical (NYSE:DOW): Dow's earnings came out today, and have been well received by the market. Adjusted earnings per share were up 16 percent since the same period last year to $1.87 per share, and the firm paid down its outstanding debt by $2.2. billion. The company is also considering selling these businesses for around $6 billion, if margins don't continue to improve in the future. Dow has also generated $4.2 billion in cash flow from operations year-to-date, a $2.8 billion gain from last year.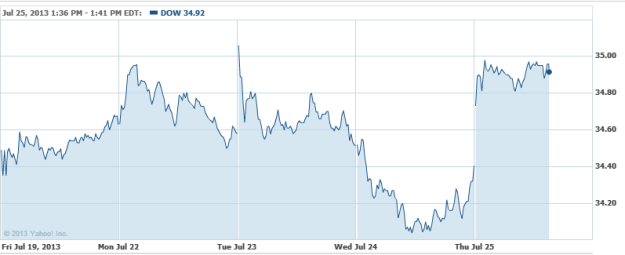 General Motors (NYSE:GM): GM is reporting its second quarter results today, showing earnings of $1.2 billion in the second quarter, or $0.84 cents per share, beating the estimate of $0.75 — slightly down from last year, but better than expected due to one-time expenses. GM has also announced a collaboration with Honda (NYSE:HMC) to work on next-generation fuel cell technologies, which aims to improve refueling infrastructure. GM and Honda are leaders in fuel cell technology, holding more than 1,200 fuel cell patents between them.

Don't Miss: Verizon Takes a Stand for Apple.