Unemployment Rate Finally Drops for the Right Reason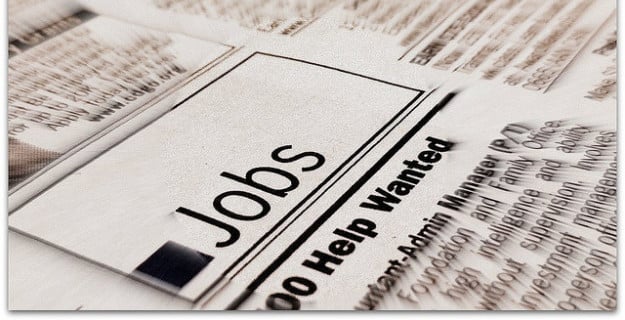 Federal Reserve policymakers and watchers of U.S. economic health finally know how the labor market fared in September. The Department of Labor's most recent Employment Situation Report, originally scheduled for release on October 4 but postponed thanks to the partial shutdown of the federal government, showed an economy growing at a sluggish rate.
Even before the political crisis over government spending, the Affordable Care Act, and the debt ceiling began on October 1, businesses had been slow to hire throughout September, which has only added to Americans' concerns about the strength of the U.S. economy.
Data from October will reflect the full impact of the closure, and because consumer confidence plummeted during the 16-day government shutdown, economists anticipate that businesses held back on hiring and that spending remained cautious during the period.
"What I'm hearing anecdotally is a lot of employers really sat on their hands in October in terms of hiring decisions, sort of like the deer caught in the headlights," Bank of the West chief economist Scott Anderson told the Washington Post. "I'm afraid that this lackluster job growth could hang on until early next year."
The government's Tuesday report on labor market conditions showed U.S. employers were reluctant to expand their payrolls, creating just 148,000 job in September, down from August's upwardly revised 193,000 new jobs and far below analyst estimates for 185,000. Recent monthly job numbers show a slowing trend. Even though August's figures were revised from 169,000 to 193,000, July's gains were reduced to 84,000.
At the beginning of 2013, employers added an average of 195,000 jobs per month, but in the second half of the year, that growth slowed to an average of 143,000 payroll additions per month, a rate strong enough to keep up with population growth and new entrants to the job market, but far too slow to significantly absorb many of the 11.3 million officially unemployed Americans or the approximately 8 million part-time workers who want more hours.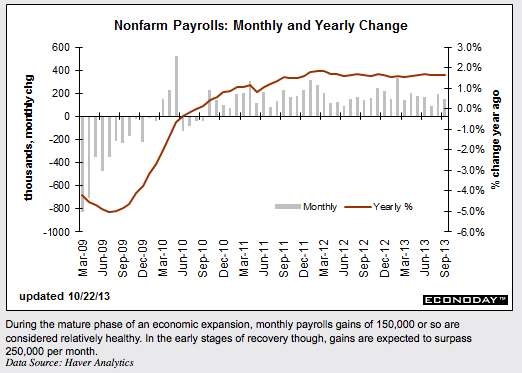 Adding more than 20,000 jobs each, growth was led by retail trade, transportation and warehousing, and temporary-help industries. Similarly, employers in the construction sector increased payrolls by 20,000 jobs, the sector's strongest gain since February. Comparatively, manufacturing job growth remained flat, and the once-strong leisure sector, which includes hotels and restaurants, lost 13,000 jobs last month. While federal employment dropped by 6,000 jobs, government payrolls as a whole increased by 22,000.
In particular, the increase in temporary-help employment could be indicative of future hiring growth. However, another leading indicator, the average number of hours worked per week, stayed constant, at 34.5 hours, while average hourly earnings for all private employees rose only 3 cents to $24.09.
In September, even though job growth was limited and the total number of unemployed in the United States remained little changed at 11.3 million, the unemployment rate ticked down 0.1 percentage point to 7.2 percent; the unemployment rate now stands at a five-year low.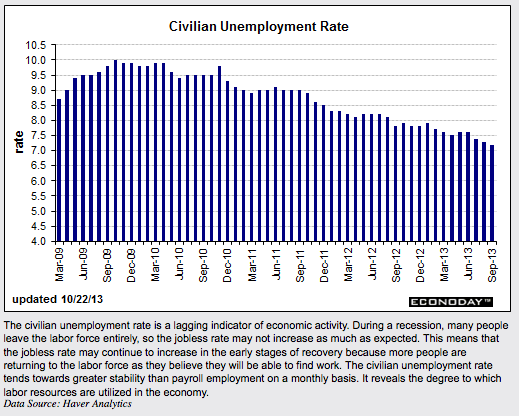 Since June, the unemployment rate has fallen 0.4 percentage points as the ranks of the unemployment declined by 522,000. In general, recent drops in the headline unemployment rate had little to do with job creation and much to do with labor force participation. In August, the unemployment rate ticked down to 7.3 percent, largely as the result of job hunters dropping out of the workforce. The share of working-age Americans who were employed or looking for work fell to 63.2 percent that month — its lowest level since 1978, a time when fewer women were participating in the labor force.
But unlike in previous months, the decrease in the headline unemployment rate came because more Americans were working in September. That decrease was accompanied by a similar decline in a broader measure of unemployment: the U-6 unemployment rate, which includes the marginally employed and those employed part-time for economic reasons, dropped from 13.6 percent from 13.7 percent.
The number of people employed in September increased by approximately 133,000, while the number of people who said they were unemployed fell by about 61,000. But the labor market participation rate did remain flat with August's level, which was a disappointing aspect of the jobs report. Even though the unemployment rate fell for the right reason — because more Americans were employed — the workers who have given up searching for a job have not come back to the labor market en masse.
Also concerning is the fact that the number of part-time workers looking for full-time employment rose in September, although it did remain more than 300,000 people below its July level.
Stepping back to look at the larger picture, despite the improvements in the U-6 unemployment rate, the hole left in the jobs market by the recession is still gaping. More than 4 million people have been out of work for more than six months, and more than 11.5 million in total are looking for a job. To put it simply, "the labor market recovery continues, but the pace of job growth remains disappointing," as PNC Financial Services Group economist Gus Faucher told the Washington Post.
Many economists expect the Federal Reserve to begin tapering its stimulus program in December, but post-shutdown, the U.S. economy has been left in shadow — it is difficult to fully make out the details. The hazy future of the country is most salient to the Federal Reserve's decision on whether to cut back on its immense bond purchases.
"We need more information about how the economy is proceeding, how we are going to weather the most recent government shutdown. I think the most likely outcome is one where we continue to go for a couple of meetings to assess this," Federal Reserve Bank of Chicago President Charles Evans told Reuters.
"The Fed's core criteria to change policy is clear evidence of a sustained improvement in the labor market outlook," Pantheon Macroeconomics chief economist Ian Shepherdson wrote in a note to clients acquired by The New York Times. "Such evidence will not be available this year" because the government shutdown likely depressed employment in October, which will cause a corresponding bounce back in November, he said. That means the first "clean" report, one free from the impact of the recent political crisis, will not come until January, when December data will be published.
Follow Meghan on Twitter @MFoley_WSCS
Don't Miss: Shareholders Buckle In as JPMorgan Faces Record Penalty.