Unemployment's Down, But Is It Enough?
Payroll processor ADP's national employment reported showed Wednesday that employers added a disappointing number of new jobs to their payrolls in April. But data supplied Thursday by the outplacement consultancy firm Challenger, Gray & Christmas support a slightly different conclusion; job cuts fell to their lowest level since December last month and hit a level consistent with pre-recession conditions. Adding to that stronger picture of the labor market was the Labor Department's Thursday announcement that initial claims for unemployment benefits fell to the lowest level reported in the past five years.
There is even more solid evidence that the labor market is moving away from recent weakness. On Friday, the Labor Department's Bureau of Labor Statistics released its monthly Employment Situation report showing that the United States economy had created 165,000 jobs in April, slightly lowering the unemployment rate from 7.6 percent to 7.5 percent — a four-year low. Last month's job growth also represented a significant improvement from March's anemic payroll gain of an upwardly revised 138,000.
However, the number of Americans who are out of work remained at 11.7 million — a sign of how stubbornly slow the recovery has been since the recession officially ended in mid-2009. The job growth the U.S economy has created in the past 12 months — an average of 159,000 per month — is far too low to significantly reduce the ranks of the long-term jobless, which economists say will require gains of 250,000 jobs per month. Yet, it cannot be forgotten that unemployment has fallen by 673,000 since January.
"The overall picture is that the global recovery has paused, after gaining some momentum around the turn of the year," wrote Capital Economics senior economist Andrew Kenningham in a research note seen by CBSNews. "Looking forward, many commentators are forecasting an acceleration of global growth later in the year, but we think this looks like wishful thinking."
With fiscal headwinds growing, economists had predicted that April's jobs gains would only amount to 140,000 jobs. As the reported data surpassed this consensus, some fears that the economy was set to nosedive will be allayed. While the economy picked up slightly in the third quarter of last year, growth has weakened in recent weeks; gross domestic product dropped to 0.4 percent in the fourth quarter of 2012 from 3.1 percent in the third quarter. In the first quarter of this year, economic growth reached 2.5 percent — as the Commerce Department announced last week — but fell below expectations of at least 3 percent growth.
As economists forewarned earlier in the year, the biggest restraint on growth has been the massive, across-the-board government spending cuts implemented in March after Congress failed to reach a fiscal deal and January's hike in payroll taxes. Only the housing market, which has seen home prices continue to increase, and consumer spending have kept the recovery plodding forward. Still, consumer spending, while a robust 3.2 percent in the first quarter, fell significantly in March.
Economists now expect GDP growth for this year to come in between 2 percent and 2.5 percent.
Here's how the market traded Friday: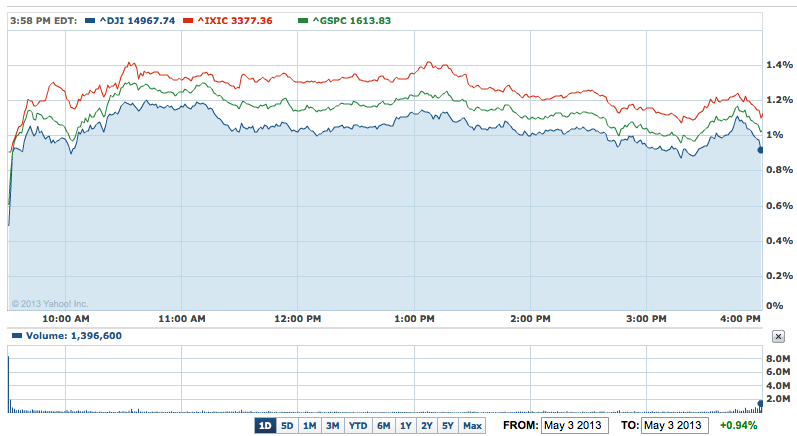 Don't Miss: Warren Buffett: Here's What America's Economy Needs.