Unexpected Draw and Trouble in Egypt Pushes Crude to Nine-Month High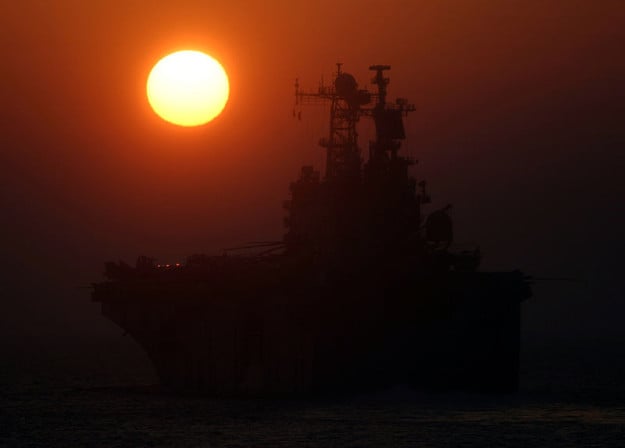 Crude oil prices have remained remarkably stable over the past year despite a laundry list of supply disruptions that include the Nigerian oil theft, the Syrian civil war, and, now, political unrest in Egypt. The reason for this stability is primarily the new thick supply of North American oil cushioning the markets. This has "moderated" the effect of recent outages, Adam Sieminski, administrator of the U.S. Energy Information Administration, told The Wall Street Journal.
So far, the new supply has not pushed prices lower, and analysts disagree over whether it ever will. But what cannot be disputed is that it is acting as a shock absorber for the global supply chain that transports 88 million barrels of oil to customers every day. Steady fuel prices help everyone from manufacturers to motorists.
North America has added about 1.8 million barrels of daily oil production in the past two years, and the Paris-based International Energy Agency has estimated that the continent as a whole will add an additional 3.9 million barrels of daily output by 2018.
With this production boom as a backdrop, West Texas Intermediate crude, the U.S. benchmark, topped $100 per barrel for the first time since September as traders anticipated the Energy Information Administration to show an increase in U.S. oil demand in its weekly petroleum status report, which is just what data released by the statistical arm of the U.S. Department of Energy indicated.
While analysts surveyed by Platts expected the report to show a draw of 3 million barrels in crude oil stocks, supplies declined by an unexpected 10.3 million barrels, or 2.6 percent, leaving inventories at 383.8 million barrels. That figure is 0.2 percent above year-ago levels, according to the EIA.
A sharp week-to-week slowing in oil imports and a rise in refinery inputs combined to cause the steepest weekly draw in oil inventories since December. U.S. crude oil imports averaged 7.4 million barrels per day during the week ended June 28, which was 891,ooo fewer barrels per day than the previous week while refineries operated at 92.2 percent of their operable capacity.
Demand for gasoline also rose over the four weeks ended June 28, averaging 8.9 million barrels a day. This demand shrank gasoline supplies by 1.7 million barrels, or 0.8 percent, to 223.7 million barrels last week. In comparison, analysts expected gasoline supplies to rise by 1 million barrels. Stockpiles still remain at the highest level for this time of year since 1992. But the draw on gasoline supplies should not be surprising, as demand typically increases during the summer months as more Americans go on vacation.
Gasoline futures for August delivery rose 6.13 cents, or 2.2 percent, to $2.8446 a gallon just before noon on the New York Mercantile Exchange. Similarly, after the report, benchmark crude futures rose $2.20 to $101.80 per barrel.
But crude oil futures were not just trading higher because of the draw in crude oil inventories. Even though the U.S. has a significant buffer against supply distractions, WTI crude inched above the $100-per-barrel mark for the first time in nine months partly on the concern that the political uprising in Egypt will disrupt oil shipments. After all, the domestic oil cushion only moderately mitigates supply disruptions.
"We're all watching," Jefferies Bache, senior vice president at Andrew Lebow, told Bloomberg. "If they closed Suez, it would be a major disruption,"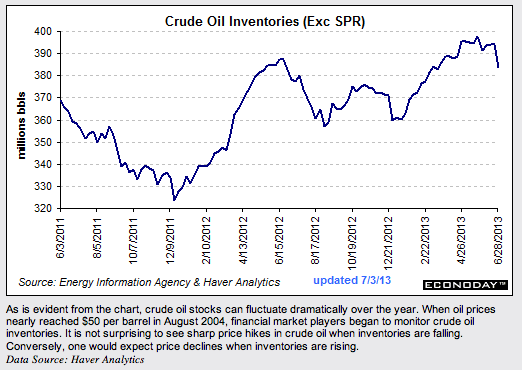 Follow Meghan on Twitter @MFoley_WSCS
Don't Miss: Jobless Claims Are Falling, But Will Hiring Pick Up Soon?