Unfazed Tesla to Power Through Factory Incident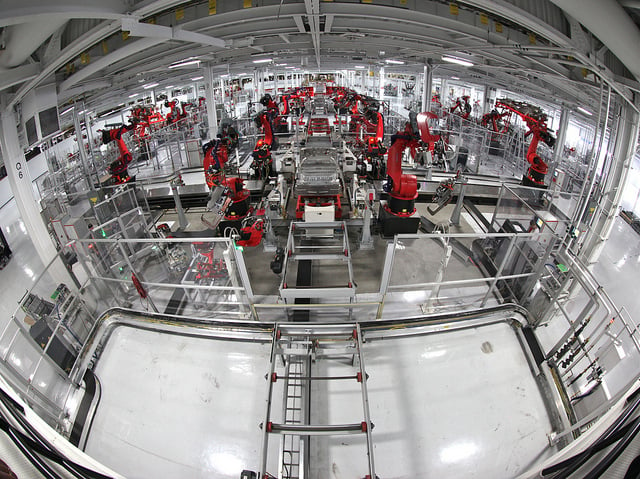 If a Tesla (NASDAQ:TSLA) Model S were seen stalling on the road, there would likely be reports flooding national media outlets within minutes. Such is the hype surrounding the high-profile electric vehicle maker that has seen its stock price drop more than 25 percent following reports of fires and perceived weakness in production capacity. Following a Tuesday factory incident in which three employees were burned, Tesla representatives told the media that production would not suffer.
According to the Associated Press, three employees were burned on Wednesday by malfunctioning equipment in Tesla's Fremont, California, factory. The plant workers were taken to an area hospital and treated for injuries that were considered serious in the case of one man. Occupational Safety & Health Administration officials told the news outlet it was investigating the incident, which follows a 2012 violation at the same plant.
Chief Executive Elon Musk visited the injured employees at the hospital and told KNTV of San Jose that it seemed as if Tesla was getting more scrutiny than was warranted. According to Bloomberg, Musk told the station's news team,"There does seem to be … a bit too much attention paid to Tesla, good and bad." But for much of the year, Tesla was the one driving that media blitz.
Between showy events highlighting the features of the Model S and Musk's high profile on Twitter, the media has been fascinated by the electric car company with the skyrocketing stock price. Musk's reputation as an inventor of considerable genius has been matched by his willingness to engage consumers, opponents, and the world at large via social media.
Beginning with the car fires and continuing through the lukewarm reception of the company's recent earnings report, Tesla has encountered the bad side of media scrutiny. On Tuesday, Musk said at the New York Times DealBook conference that there would be no recall of the Model S following the two U.S. fires. Though regulators determine when recalls become necessary, the announcement was likely meant to calm investors who have been driving the price of Tesla down over the past 30 days.
A Tesla spokesperson told Bloomberg that Tuesday's factory incident wasn't going to interrupt production in any way. Though Tesla is facing investigations both at its factory and with its flagship vehicle, the company is stressing that there's no major cause for concern. In the recent past, investors have proven assurances of this nature often go unheeded.
Don't Miss: 10 Exceptionally Lavish Car Options.