UnitedHealthcare Vision Tops Customer Satisfaction Review and 2 Other Dow Movers to Watch
UnitedHealth Group Inc. (NYSE:UNH): Current price $72.34
According to the J.D. Power 2013 Vision Plan Satisfaction Report, UnitedHealthcare Vision ranked number one in customer satisfaction among the country's vision plan providers. The review was based upon responses from over 3,000 vision plan participants spanning the United States, measuring member satisfaction based on four key factors: cost, coverage, communication, and customer care. UnitedHealthcare's cumulative score of 704 ranked the highest among the four plans analyzed.

The Boeing Co. (NYSE:BA): Current price $116.52
On Monday, Airbus secured its first jet order from Japan Airlines, moving into a sizable national market long dominated by its primary competitor, Boeing. The latter acknowledged it had paid dearly for the mechanically troubled intro of its 787 Dreamliner. The landmark transaction for 31 wide-body A350 jets at a total $9.5-billion list price comes after an intense battle between the two manufacturers, while JAL and its domestic rival ANA Holdings Inc. shop for dozens of new long-haul jets during the next decade.

The Goldman Sachs Group, Inc. (NYSE:GS): Current price $155.05
Goldman announced Monday that the former president of the World Bank Group Robert B. Zoellick, will serve as chairman of its international advisors. In this function, Zoellick will advise the company on world strategic issues and oversee the work of its 16 international advisors. For the past year, Zoellick has been the distinguished visiting fellow at the Peterson Institute for International Economics, and senior fellow at the Belfer Center for Science and International Affairs at Harvard University.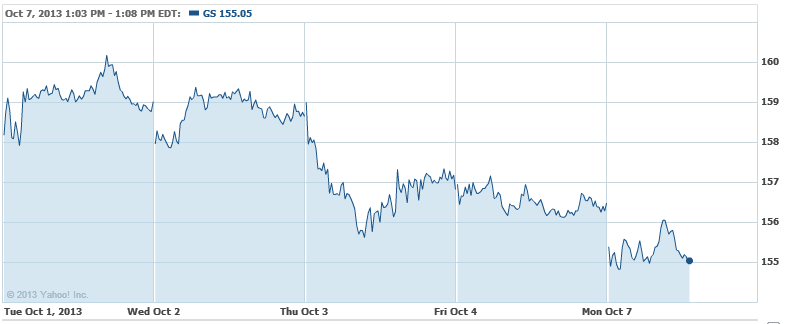 Investing Insights: Can Pfizer Stock Keep Going?