Unum Group Earnings: Still a Challenging Environment
S&P 500 (NYSE:SPY) component Unum Group (NYSE:UNM) reported its results for the first quarter. Unum Group provides group and individual disability products in the US and the U and provides a portfolio of other insurance products, including longterm care insurance, life insurance and employee-paid group benefits.
Don't Miss: Wall St. Cheat Sheet's newest Feature Trades of the Month!
Unum Group Earnings Cheat Sheet for the First Quarter
Results: Net income for the accident and health insurance company fell to $225.4 million (72 cents/share) vs. $229.8 million (69 cents/share) a year earlier. A decline of 1.9% from the year earlier quarter.
Revenue: Remained constant at $2.56 billion.
Actual vs. Wall St. Expectations: The mean estimate for UNM was 70 cents/share. Estimates ranged from 68 cents per share to 72 cents per share.
Quoting Management: "Our first quarter results were generally in line with our expectations and represent a solid start to 2011," said Thomas R. Watjen, president and chief executive officer. "While the current environment still remains challenging, our disciplined approach to the business is serving us well, enabling us to continue to generate excess capital which gives us significant financial flexibility."
Key Stats:
Net income has increased 5.8% year over year on average across the last five quarters. The biggest gain came in the first quarter of the last fiscal year, when income climbed 39.4% from the year earlier quarter.
Competitors to Watch: Principal Financial Group, Inc. (NYSE:PFG), AFLAC Incorporated (NYSE:AFL), CNO Financial Group, Inc. (NYSE:CNO), CIGNA Corporation (NYSE:CI), WellPoint, Inc. (NYSE:WLP), American Independence Corp. (NASDAQ:AMIC), Universal American Corp. (NYSE:UAM), Humana Inc. (NYSE:HUM), Triple-S Management Corp. (NYSE:GTS), and HealthMarkets, Inc. (NYSE:UCI)
Stock Performance: Shares of UNM are trading 0.08% after hours.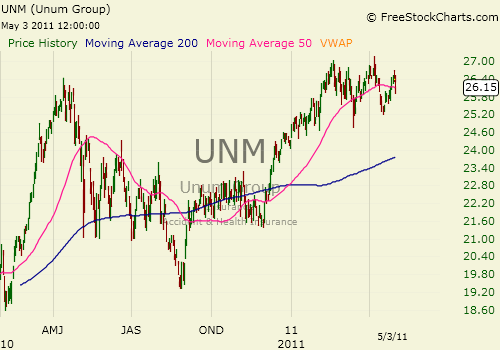 Don't Miss Wall St. Cheat Sheet's newest Feature Trades of the Month!