Up-and-Comers: 4 Trends in Big Pharma's Pipeline
The year 2014 has been full of big moves in the pharmaceutical industry, with Big Pharma companies engaging in seemingly rapid-fire merger and acquisition deals in an effort to reorder and reorganize its businesses. More and more, pharmaceutical companies are focused on snatching up smaller competitors that are proven innovators in a specific field, and the focus seems to be on establishing the very best R&D teams in specific, viable areas of research.
The year 2014 has also been plagued with an ongoing stream of doom and gloom surrounding the industry's ever-persistent, ever-approaching "patent cliff," along with concerns regarding the Big Pharma's viability now that blockbusters are harder and harder to come by. But there are reassuring words to be had, particularly if you keep the bigger picture in mind. IHS analyst Gustav Ando, who spoke with Britain's The Guardian in a recent report, says that, "The pharma industry is probably one of the most adaptable industries out there. Very few industries are forced to completely reinvent themselves."
While there is still much of the year to account for, already trends seem to be emerging for 2014. Specialty drugs are high on our list, with generics (and the drama it creates) also likely to play an important role throughout the rest of the year. Continue on to see the full list.
4. Biologics/Biotech
Biologic medicines differ from conventional, chemical medicines in that it is more complex — but also, and more importantly, in that it is made up of living matter (such as human cells, bacteria, and yeast.) In the past few years, these kinds of medicines have become more and more prevalent within the pharmaceutical industry. More than 300 biological medicines have been approved by the FDA in the last decade, and there are currently more than 900 in various stages of development in the U.S. alone, according to a report from phrma.org.
Biological medicines should be thought of as a kind of umbrella term for highly complex medicines which incorporate living material; but despite its diversity and relatively recent discovery (the first biological medicines were developed by Eli Lilly & Co. in the 1980s), it accounts for an ever-increasing percentage of new drug launches every year. Immunotherapies, for example, are often also biologics.
A 2014 report form EvaluatePharma notes that, "2014 could be one of the best years for launches of biological products … over the past 10 years, the value of biologic launches has been trending upwards. Launches of conventional pharma products, on the other hand, show bigger oscillations but reveal no trend towards greater sales."
In a report late last month, The Guardian also notes that the companies at the center of the flurry of deals that occurred between Novartis AG (NYSE:NVS), GlaxoSmithKline plc (NYSE:GSK), and Eli Lilly & Co. all make vaccines and other biological drugs. Biological medicines, The Guardian says, are "hot properties." In particular, the report adds, biological drugs treat cancer and auto-immune disorders such as psoriasis and rheumatoid arthritis.
3. Anti-Infectives (Hepatitis C, HIV/AIDS)
Gilead Sciences' (NASDAQ:GILD) Hepatitis C cure, Sovaldi, has garnered a lot of media attention recently, sparking public debates over who should be granted access to the medicine, which costs an astonishing $1,000 a pill. Several other companies have developed their own cures, including Merck & Co. Inc. (NYSE:MRK), AbbVie Inc. (NYSE:ABBV), and Bristol-Myers Squibb Co. (NYSE:BMY). The drugs are all quite costly, and Sovaldi achieved a wildly successful launch, generating more than $2.2 billion in its first-quarter.
But the industry has been seeing success with other, more innovative new anti-infective drugs too, such as a treatment for hospital-acquired infections from Gram-negative bacteria currently being developed by Cubist Pharmaceuticals, or Merck's recent success with an update of its blockbuster Gardasil vaccine for HPV (human papillomavirus.) The new version of the drug, called V503, will treat and additional 5 strains of the virus, according to EvaluatePharma, protecting women from 90 percent of the strains which cause cervical cancers — an impressive improvement from Gardasil's 70 percent.
2. Generics 
The impending doom of Big Pharma's "patent cliff" means that generics are one of the next big things in pharma right now. While it's true that patent cliffs are nothing new in the pharmaceutical industry, the sheer volume of drugs due to expire in the near future means that companies are likely to experiences waves of expirations, putting added pressure on those companies to perform in the R&D department. A Bloomberg report from earlier last year notes that the drugs expected to go off-patent in 2014 account for just under $50 billion in revenue for the pharmaceutical industry.
Another, more recent report from Bloomberg notes that Teva Pharmaceuticals (NYSE:TEVA), an Israel-based company with a large generics business, saw its Q1 profits rise $1 billion, or about 8 percent, due to the launch of new generic drugs. The numbers beat analysts previous estimates.
Meanwhile, Pfizer, Inc. (NYSE:PFE) is struggling with a handful of patent expirations, which it claims is the real reason behind the company's recent dip. Forbes reported Monday that Pfizer's recent patent expirations on its rheumatoid arthritis drug Embrel, its COPD drug Spiriva, and its bladder incontinence drug Detrol LA were responsible for its 9 percent drop in revenue compared with the prior year.
The patent cliff facing many Big Pharma companies this year is important for two reasons: for one, it seems to herald more squabbles like the one Teva is currently embroiled in with regards to Copaxone, with companies utilizing whatever tactics they can in order to delay the release of generic versions of formerly blockbuster drugs, and two, it puts pressure on companies to churn out new blockbusters. As a result, many companies are increasingly focusing on R&D, as evidenced by Pfizer's seemingly endless pining over rival AstraZeneca Group Plc. (NYSE:AZN).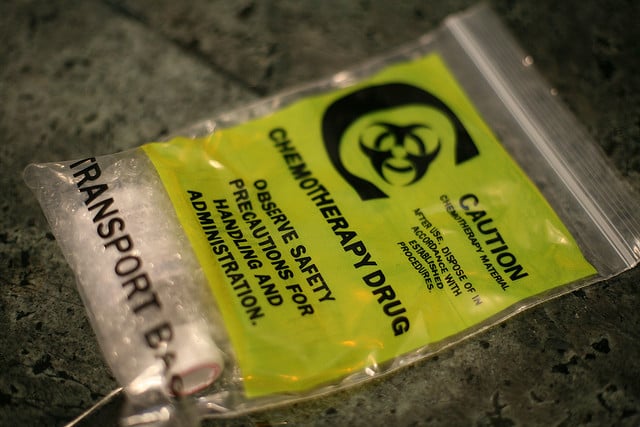 1. Oncology – Immunotherapies
Talk about buzzwords. Immunotherapies have been all over the news in recent weeks. Analysts even speculate that a good part of what makes AstraZeneca so alluring to its American rival Pfizer is the company's cash cow of promising cancer immunotherapies. It's true — oncology accounts for the vast majority of AstraZeneca's current phase III investigational medicines, and a good deal of its phase II pipeline as well.
So what are immunotherapies? For the uninitiated, immunotherapies work differently than other kinds of medicine in that it actually stimulates the body's immune system to fight off illness, rather than relying primarily on an active chemical component or components. In oncology in particular, immunotherapies are being heralded as an important step forward in that it treats cancer without the usual side effects associated with standard chemotherapy drugs, which are known for wrecking havoc on the body in their efforts to kill the errant cells.
Many immunotherapies developed within the oncology arena are meant to treat a very specific form of cancer: these are collectively known as "targeted therapies," and have made it possible to treat unusual or rare forms of cancer. According to the American Cancer Society, investors should expect that "many future advances in cancer treatment will probably come from this [emerging] field." For this reason, immunotherapies are likely to account for several of this year's blockbuster launches.
Further, physicians Sabrina Richards and Andrea Detter say that cancer immunotherapy is changing the outlook for cancer patients in a big way. The new medicines "have many in the field redefining their expectations of success for new treatments from incremental advances in patient response to complete regression of tumors," wrote physicians Sabrina Richards and Andrea Detter of the Fred Hutchinson Cancer Research Center.
It seems like every major pharmaceutical company these days has at least one targeted cancer therapy in its pipeline, and many of them already have physicians and investors talking. We've covered a few of these in a previous post, "6 Drugs That Could Move the Pharma Market," including Pfizer's palbociclib, Bristol-Myers Squibb & Co.'s nivolumab, Gilead Sciences' idelalisib, and Eli Lilly's stomach cancer-fighting drug ramucirumab.
More From Wall St. Cheat Sheet: