Uranium Energy Earnings Cheat Sheet: Swinging to a Loss and Missing Estimates
Uranium Energy Corp (AMEX:UEC) swung to a loss in the third quarter, missing analysts' forecasts. Uranium Energy Corporation is a natural resource exploration company engaged in the exploration of properties that may contain uranium minerals in the United States.
Don't Miss: Wall St. Cheat Sheet's newest Feature Trades of the Month!
Uranium Energy Earnings Cheat Sheet for the Third Quarter
Results: Swung to a loss of $6.2 million (9 cents/diluted share) in the quarter. Uranium Energy Corp had a net income of $3.2 million or 5 cents per share in the year earlier quarter.
Actual vs. Wall St. Expectations: UEC fell short of the mean analyst estimate of a loss of 3 cents/share. Estimates ranged from a loss of 9 cents per share to a profit of 3 cents per share.
Quoting Management: Amir Adnani, President and Chief Executive Officer, stated, "This was an excellent quarter of operations growth for the Company. Before addressing the results further however, I am compelled to comment on Japan. Three months after an unparalleled earthquake and tsunami disrupted its eastern coast, Japan continues to recover from the devastating aftermath. To the thousands of Japanese that have been directly affected, especially to those many families who have suffered tragic losses, we extend our deepest sympathies and condolences. We would like to recognize the valiant efforts of the Japanese people, renowned for their remarkable perseverance and resilience, as they rebuild towards a full recovery, especially to those working around-the-clock in the hardest-hit areas."
Competitors to Watch: Uranium Resources, Inc. (NASDAQ:URRE), Uranerz Energy Corp. (AMEX:URZ), Ur-Energy Inc. (AMEX:URG), Denison Mines Corp. (AMEX:DNN), Cameco Corporation (NYSE:CCJ), Crosshair Exploration & Mining Corp. (AMEX:CXZ), USEC Inc. (NYSE:USU), General Moly, Inc. (AMEX:GMO) and Ur-Energy Inc. (NYSE:URE).
Stock Performance: Shares of UEC are up 6.62% to $3.06 per share.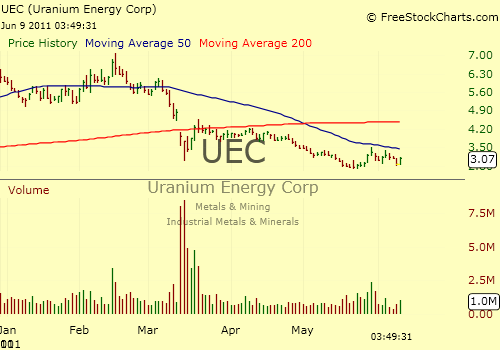 Don't Miss Wall St. Cheat Sheet's newest Feature Trades of the Month!
(Sources: YahooFinance, Xignite Financials)