US Airways-American Merger Not Dead, Vodafone Could Sell Verizon Stake: Market Recap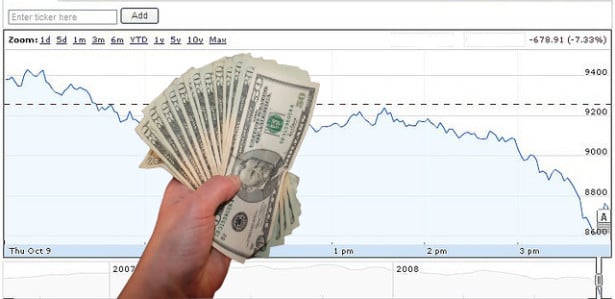 U.S. stocks rose on Thursday after data showed the economy expanded in the second quarter. Investor concern over unrest in Syria that caused stocks to fall earlier in the week eased today and data from the Commerce Department showed that gross domestic product grew at an annualized rate of 2.5 percent.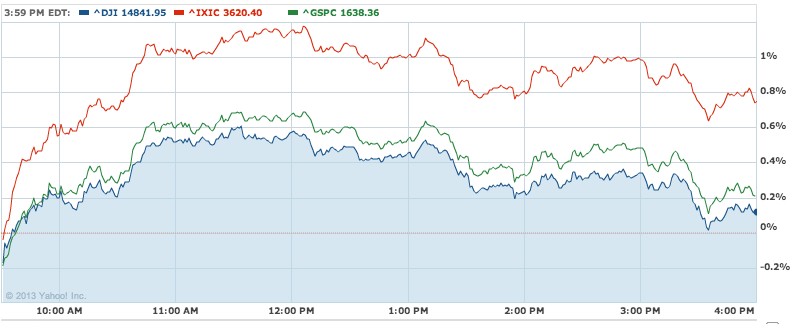 Gold: -0.87% to $1,406.50 per ounce Oil: -1.53% to $108.42 per barrel U.S. 10-Year: -1.11 to 2.751%
Revised Q2 GDP: Here's Proof of a Stronger Economy: The Department of Commerce's revised estimate of GDP growth showed that economic growth actually accelerated at a far stronger pace than previously calculated. Real gross domestic product — the output of goods and services produced by labor and property located in the United States — increased at an annual rate of 2.5 percent in the second quarter of 2013.
Falling Jobless Claims Suggest Future Strength: Earlier this month, when from the Department of Labor reported that the United States economy added the fewest number of workers in four months in July with the majority of the job gains coming in the low-wage retail and restaurant sector, fears that the recovery had paused or even taken a step back were reignited.
Is the Fed's Lifeline Actually Toxic for the Global Economy?: Even dressed up for the optimist, incoming information about the U.S. economic recovery sometimes seems dubious. The latest Employment Situation report, for example, shows that headline unemployment declined 0.2 percentage points on the month to 7.4 percent in July — its lowest level since President Barack Obama took office at the beginning of 2009.
Here's your cheat sheet to today's top stock stories: 
Vodafone (NASDAQ:VOD) has confirmed it's in talks with Verizon Communications (NYSE:VZ) to potentially sell its 45 percent stake in the joint venture Verizon Wireless to the American company. According to people familiar with the talks who spoke to Bloomberg, the deal would cost Verizon around $130 billion.
US Airways (NYSE:LCC), AMR Corp.'s (AAMRQ.PK) American Airlines, and the U.S. Department of Justice said they'd be willing to work out an agreement to allow a proposed merger between the two airlines to move forward, according to a document filed by the parties Wednesday and seen by Reuters.
Wal-Mart's (NYSE:WMT) disasters in Bangladesh — like last November's fire and a building collapse earlier this year that killed more than 1,100 people — will likely increase the cost of producing goods for the apparel companies that supply Wal-Mart. That the discount retailer is holding a briefing on Thursday to discuss its sourcing practices in Bangladesh is a sign that shareholders are concerned about the condition of the company's supply line.
Google (NASDAQ:GOOG) executives have effectively woven themselves a love triangle, but unfortunately, one of Android's top dogs has extracted himself out of the web — and out of his job. According to All Things D, Hugo Barra, now former vice president of product management for Android, was no stranger to Google's public eye.
Pentagon Sees U.S. Banks as Targets of Syrian Cyberattacks: Syria — which is bordered by Iraq on the east, Turkey on the north, and touches Israel on the southwest — has been engaged in a brutal civil war for more than two years. The uprising against President Bashar al-Assad's government has taken center stage as one of the most disruptive and violent ongoing conflicts.
Don't Miss: 3 Major Risks to Europe's Economic Recovery.
Follow Jacqueline on Twitter @Jacqui_WSCS