US Appeal Court Rules Facebook 'Like' Protected Speech and 2 Other Hot Stocks to Watch
Facebook Inc. (NASDAQ:FB): Current price $45.06
On Wednesday, United States Circuit Judge William Traxler of the U.S. Court of Appeals in Richmond decided that the use of the "Like" feature to show support for a candidate in an election is protected speech under the United States Constitution. The court issued its ruling in a lawsuit brought by former employees of a sheriff's office who claimed that they lost their jobs because they backed their boss's opponent by endorsing a campaign page on Facebook.
In making the ruling, the appeals court reversed a lower court judge who said that simply clicking the "Like" button does not amount to "a substantive statement" that deserves constitutional protection. In today's ruling, Traxler commented that, "Liking a political candidate's campaign page communicates the user's approval of the candidate and supports the campaign by associating the user with it. It is the Internet equivalent of displaying a political sign in one's front yard, which the Supreme Court has held is substantive speech."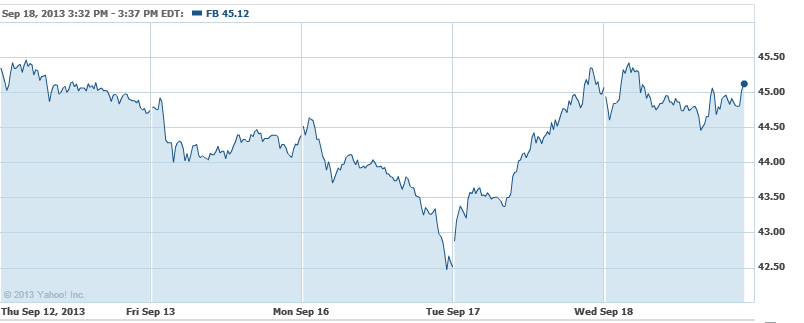 SIRIUS XM Radio Inc. (NASDAQ:SIRI): Current price $3.84
Sirius XM Radio has seen its Neutral reaffirmed by Zacks Equity Research while shares moved down modestly in Wednesday morning trading. The ratings firm pointed to strong financial results for the second quarter, observing that, "This solid performance was primarily attributed to record-high revenues, adjusted EBITDA, free cash flow and net addition of subscribers. SIRIUS XM currently has a Zacks Rank #3 (Hold).
"SIRIUS XM is largely dependent on the growth of the U.S. auto industry. The company holds an estimated 70-percent market share of the new cars sold. Therefore, even a minor fluctuation in auto sales may significantly affect the company's overall financials. In order to counter this problem, management has decided to enter into the telematics business."

General Electric Co. (NYSE:GE): Current price $24.52
General Electric reported on Wednesday acquisition-related charges of 2 cents per share, connected with its previously announced purchase of Avio Aero, which closed on August 1. The charges will be taken in the company's corporate segment, including the impact of effectively resolving Avio's contractual relationships with GE — which, before the acquisition was over — 50 percent of Avio's aviation sector revenue. United States GAAP requires that GE record the fair value impact of effectively settling any pre-existing contracts, and there were several between it and Avio in this case.

Don't Miss: Starbucks: No Guns on Premises, Please.