UTX's Pratt & Whitney Lays Off Salaried Workers and 2 Other Dow Movers to Watch
United Technologies Corp.  (NYSE:UTX): Current price $105.16
In a Wednesday statement, the United Technologies subsidiary Pratt & Whitney announced that it is laying off 400 of its salaried workers, among which include 200 positions in Connecticut, at once. The firm said that it constantly assesses its staff levels so as to match them up with business and economic conditions, and makes modifications to "keep our cost structure competitive." The subsidiary will provide severance pay, help finding new employment, group insurance, and employee scholar program benefits to the outgoing workers.
In the statement, which was quite similar to the one issued earlier in 2013 when 350 employees were laid off, Pratt & Whitney said that, "Our long-term outlook is very bright; however, to secure this bright future we must address some near-term challenges."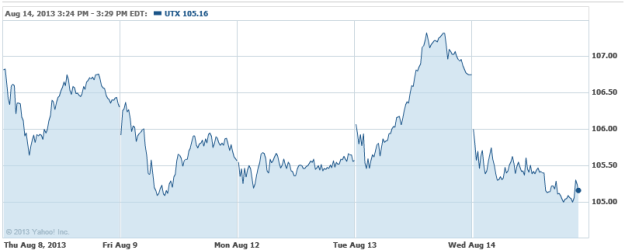 Chevron Corp. (NYSE:CVX): Current price $122.36
Chevron's next ex-dividend date is Thursday, August 15. Shareholders as of the market close on Wednesday will be eligible for a dividend of $1 per share. Based on a price of $121.97 as of 10:35 a.m. Eastern Time, this dividend yield comes to 3.3 percent compared to the average Dow component yield of 2.6 percent. Chevron's average volume has been 5.6 million shares per day during the past 30 days. The energy major has a market cap of $235.32 billion.

3M Co. (NYSE:MMM): Current price $117.86
On Wednesday, 3M's board declared a dividend on the company's common stock of 63.5 cents per share for the third quarter, payable September 12, to shareholders of record at the close on August 23. The company has paid dividends to its shareholders without interruption for 97 years. As of June 30, 3M had 683,468,043 common shares outstanding and 93,397 shareholders of record.

Investing Insights: Will HP Continue This Explosive Run?